Minister's Reply to M.P.T.A.
20th June 1947
Page 53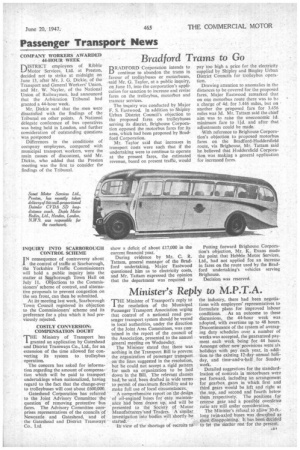 Page 53, 20th June 1947 —
Minister's Reply to M.P.T.A.
Close
THE Minister of Transport's reply to the resolution of the Municipal Passenger Transport Association urging that control of a national road passenger transport system should be vested in local authorities, under the direction of the Joint Area Committees, was contained in the report of the council of the Association, presented to the annual general meeting on Wednesday.
The Minister stated that there was nothing in the Transport Bill to prevent the organization of passenger transport on the lines suggested in the resolution, but he could not accept a rigid pattern for such an organization to be laid down in the Bill. The relevant clauses had, he said, been drafted in wide terms to permit of maximum flexibility and to make full use of local circumstances.
A comprehensive report on the design of oil-engined buses for easy maintenance had been drawn up, and will be presented to the Society of Motor Manufacturers'and Traders. A similar investigation into bodies will shortly be started. .
In view of the shortage of recruits the industry, there had been negotiations with employees' representatives to formulate plans for improved labour conditions. As an outcome to these discussions, the 44-hour week was adopted, with overtime up to 48 hours. Discontinuance of the system of averaging duty schedules over a number of weeks was accepted, the guaranteed payment each week being for 44 hours. Amongst .other new provisions were six holidays with pay each year, in addition to the existing 12-day annual holiday, and time-aftd-a-half for Sunday work.
Detailed suggestions for the standardization of controls in motorbuses were put forward, including an arrangement for gearbox gates in which first and third gears would be left and right at the top, and second and fourth below them respectively. The positions for reverse gear and a possible overdrive ratio are still under consideration.
The Minister's refusal to allow 30-ft.long twpx-axled buses was described as roost disappointing. It has been decided to let the matter rest for the Present.