Bradford Trams to Go
20th June 1947
Page 53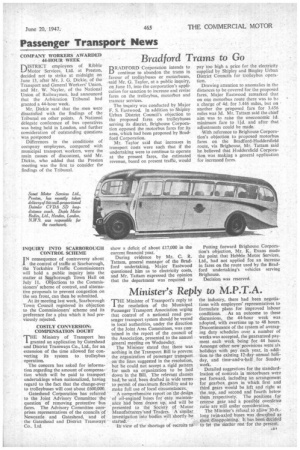 Page 53, 20th June 1947 —
Bradford Trams to Go
Close
DRADFORD Corporation intends to
continue to abandon the trams in favour of trolleybuses or motorbuses, -said Mr. G. Taylor, at a public inquiry, on June 13, into the corporation's application for sanction to increase and revise fares on the trolleybus, motorbus and tramcar services.
The inquiry was conducted by Major F. S. Eastwood. In addition to Shipley Urban District Council's objection to the proposed fares on trolleybuses serving its district, Brighouse Corporation opposed the motorbus fares for its area, which had been proposed by Bradford Corporation.
Mr. Taylor said that increases in transport costs were such that if the undertaking were to continue to operate at the present fares, the estimated revenue, based on present traffic, would show a deficit of about £17,000 in the current financial year. '
During evidence by Mr. C. R. Tattam, general manager of the Bradford undertaking, Major Eastwood questioned him as to electricity costs, and Mr. Tattam expressed the opinion that the department was required to
pay too high a price for the electricity supplied by Shipley and Bingley Urban District Councils for trolleybus operation.
Drawing attention to anomalies in the distances to be covered for the proposed fares, Major Eastwood remarked that on one motorbus route there was to be a charge of 4d. for 3.446 miles, but on another the proposed fare for 3.456 miles was 3d. Mr. Tattam said the chief aim was to raise the uneconomic Id. minimum fare to lid. and after that adjustments could be made.
With reference to Brighouse Corporation's objection to proposed motorbus fares on the Bradford-Huddersfield route, via Brighouse, Mr. Tattam said he believed that Huddersfield Corporation was making a general application for increased fares.
Putting forward Brighouse Corporation's objection, Mr. K. Evans made the point that Hebble Motor Services, Ltd., had not applied fog an increase in fares on the route used by the Bradford undertaking's vehicles serving Brighouse.
Decision was reserved.