Holiday-maker s Make
20th June 1947
Page 36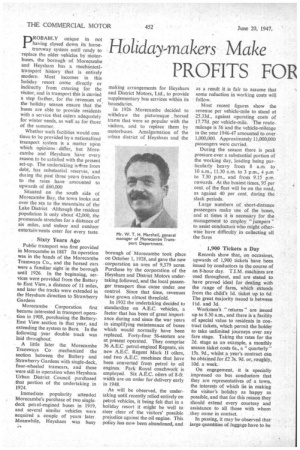 Page 37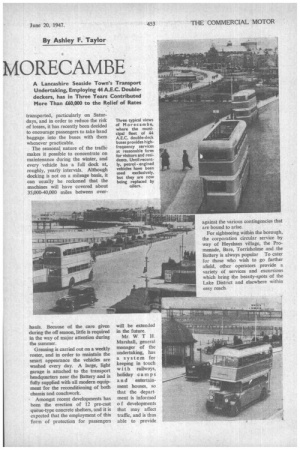 Page 36, 20th June 1947 —
Holiday-maker s Make
Close
PROFITS FOR MORECAMBE
pROBABLY unique in not having closed down its horsetramway system until ready to replace the older vehicles by motorbuses, the borough of Morecambe and Heysham has a mechanicaltransport history that is entirely modern. Most incomes in this holiday resort come directly or indirectly from catering for the visitor, and in transport this is carried a step farther, for the revenues of the holiday season ensure that the buses are able to provide residents with a set vice that caters adequately for winter needs, as well as for those of the summer, .
Whether such facilities would continue to be provided by a nationalized transport system is• a matter upon which opinions': differ, but Morecambe and 'Heysham have every reason to be satisfied with the present set-up. The undertaking isfree from debt, has substantial reserves, and during the past three years transfers to the rates have amounted to upwards of £60,000 Situated on the south side of Morecambe Bay, the town looks out over the sea to the mountains of the Lake District 'Although the resident population is only about 42,000, the promenade stretches for a distance of six miles, and indoor and outdoor entertainments cater for every taste.
Sixty Years Ago
Public transport was first provided in Morecambe in 1887 Its operation was in the hands of the Morecambe Tramways Co., and the horsed cars were a familiar sight in the borough until 1926. In the beginning, services were provided from the Battery to East View, a distance of II miles, and later the tracks were extended in the Heysham direction to Strawberry Gardens Morecambe Corporation first became interested in transport operation in 1908, purchasing the BatteryEast View section in that year, and extending the system to Bare. In the following year double track was laid throughout.
A little later the Morecambe Tramways Co mechanized the section between the Battery and Strawberry Gardens with single-deck, four-wheeled tramcars, and these were still in operation when Heysham Urban District Council purchased that portion of the undertaking in 1924.
Immediate popularity attended Morecambe's purchase of two single. deck peti ol-engined buses in 1919, and several similar vehicles were acquired a couple of years later. Meanwhile, Heysham was busy making arrangements for Heysham and District Motors, Ltd., to provide supplementary bus services within its boundaries.
In 1926 Morecambe decided to withdraw the picturesque , horsed trams that were so popular with the visitors, and to replace them by motorbuses. Amalgamation of the urban district of Heysham and the -borough of Morecambe took place on October 1, 1928, and gave the new • corporation art area of 9,379 acres Purchase by the corporation of the Heysham and District Motors undertaking followed, and the local passenger transport thus came under one control. Since that time, revenues have grown almost threefold.
In 1932 the undertaking decided to standardize on A.E.C. vehicles, a factor that has been of great importance during and since the war years in simplifying maintenance of buses which would normally have been replaced. Forty-four 56-seaters are at present operated. They comprise 36 A.E.C. petrol-engined Regents, six new A.E.C. Regent Mark 11 oilers, and two A.E.C. machines that have been converted from petrol to oil engines. Park Royal coachwork is employed. Six ARC. oilers of 8-ft width are on order for delivery early in 1948.
As will be observed, the undertaking until recently relied entirely on petrol vehicles, it being felt that in a holiday resort it might be well to steer clear of the visitors' possible prejudice against the oil engine. This policy has now been abandoned, and
as a result it. is fair to assume that some reduction in working costs will follow, Most recent figures show the revenue per vehicle-mile to stand at 25.33d., against operating costs of 17.77d. per vehicle-mile. The routemileage is 56 and the vehicle-mileage in the year 1946-47 amounted to over 1,000,000. Approximately 11,000,000 passengers were carried, During the season there is peak pressure over a substantial portion of the working day, loading being particularly heavy from 8 a.m. to 10 a.m., 11.30 a.m. to 3 p.m., 4 p.m to 7.30 p.m., and from 9.15 p.m onwards. At the busiest times, 95 per cent. of the fleet will be on the road, as against 40 per cent. during the slack periods.
Large numbers of short-distance passengers make use of the buses,
and at times it is necessary for the management to employ "jumpers" to assist conductors who might otherwise have difficulty, in collecting all the fares 1,900 Tickets a Day
Records show that, on occasions, upwards of 1,900 tickets have been issued by conductors in the course of an 8-hour day. T.I.M. machines are used throughout, and are stated to have proved ideal for dealing with the range of fares, which extends from, the child's id. ticket up to 6d The great majority issued is between lid. and 3d.
Workmen's ." returns" are issued up to 8.30 a.m., and there is a facility of special value to residents in con tract tickets, which permit the holder to take unlimited journeys over any fare stage. Taking the rates for the 2d. stage as an example, a monthly season ticket costs 6s., a " quarterly " 15s. 9d., whilst a year's contract can be obtained for £2 3s. 9d. or, roughly, 10d. a week.
On engagement, it is specially impressed on bus conductors that they are representatives of a town, the interests of which lie in making the visitor's holiday as happy as possible, and that for this reason they should extend every courtesy and assistance to all those with whom they come in contact. •
In passing, it may-be observed that' large quantities of luggage have to be
transported, particularly on Saturdays, and in order to reduce the risk of losses, it has recently been decided to encourage passengers to take hand baggage into the buses with them whenever practicable.
The seasonal nature of the traffic makes it possible to concentrate on maintenance during the winter, and every vehicle has a full dock at, roughly, yearly intervals. Although docking is not on a mileage basis, it can usually be reckoned that the machines will have covered about 35,000-40,000 miles between over hauls. Because of the care given during the off season, little is required in the way of major attention during the summer.
Greasing is carried out on a weekly roster, and in order to maintain the smart appearance the vehicles are washed every day. A large, light garage is attached to the transport headquarters near the Battery and is fully supplied with all modern equipment for the reconditioning of both chassis and coachwork.
Amongst recent developments has been the erection of 12 pre-cast queue-type concrete shelters, and it is expected that the employment of this form of protection for passengers against the various contingencies that are bound to arise.
For sightseeing within the borough, the corporation circular service by way of Heysham village, the Promenade, Bare, Torrisholme and the Battery is always popular To cater for those who wish to go farther afield, other operators provide a variety of services and excursions which bring the beauty-spots of the Lake District and elsewhere within easy reach.