Fifty-mile Radius for "Free" Road Haulage
20th June 1947
Page 29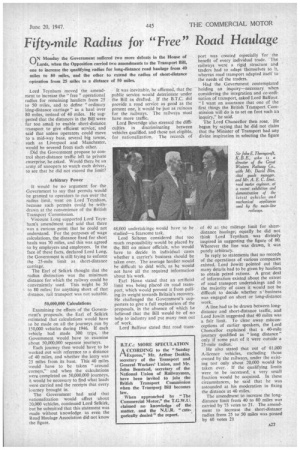 Page 29, 20th June 1947 —
Fifty-mile Radius for "Free" Road Haulage
Close
Lord Teynham moved the amendment to increase the " free" operational radius for remaining hauliers from 25 to 50 miles, and to define " ordinary long-distance carriage " as a haul over 80 miles, instead of 40 miles. He suggested that the distances in the Bill were far too small to enable short-distance transport to give efficient service, and said that unless operators could move to a mid-way base, several big towns, such as Liverpool and Manchester, would be severed from each other.
Did the Government propose to control short-distance traffic left to private enterprise, he asked. Would there be an army of snoopers to watch each driver, to see that he did not exceed the limit?
Arbitrary Power It would be no argument for the Government to say that permits would be granted to operators to run over the radius limit, went on Lord Teynham, because such permits could be withdrawn at the convenience of the British Transport Commission.
Viscount Long supported Lord Teynham's amendment and said that there was a curious point that he could not understand. For the purposes of wage calculations, the distance fixed for short hauls was 70 miles, and this was agreed TO by employers and employees. In the face of these facts, declared Lord Long, the Government is still trying to enforce the 25-mile limit as short-distance carriage.
The Earl of Selkirk thought that the radius distinction was the minimum distance for which the railway could be conveniently used. This might be 50 to 80 miles; for anything short of that distance, rail transport was not suitable, 50,000,000 Calculations Examining the effects of the Government's proposals. the Earl of Selkirk estimated that calculations would have to be made on all the journeys run by 150,000 vehicles during 1946. If each vehicle had made 300 trips, the Government would have to examine about 50,000,000 separate journeys.
Each journey then would have to be worked out with reference to a distance of 40 miles, and whether the lorry was 25 miles from its base. This 40 miles would have to be taken "around corners," and when the calculations were completed on 50,000,000 journeys, it would be necessary to find what loads were carried and the receipts that every journey brought in.
The Government had said that nationalization would affect about 20,000 vehicles, continued Lord Selkirk, but he submitted that this statement was made without knowledge as even the Road Haulage Association did not know the figure. • It was inevitable, he affirmed, that the public service would deteriorate under the Bill as drafted. If the B.T.C. did provide a road service as good as the present one, it would be just as ruinous for the railways. The railways must have more traffic.
Lord Beveridge also stressed the difficulties in discriminating between vehicles qualified, and those not eligible, for nationalization. The records of
48.000 undertakings would have to be studied—a fearsome task.
Lord Saltoun considered that too much responsibility would be placed by the Bill on minor officials, who would have to decide in individual cases whether a carrier's business should be taken over. The average haulier would be difficult to deaf with, as he would not have all the required information about his work.
Earl Howe stated that an artificial limit was being placed on road transport, which would prevent it from pulling its weight towards Britain's recovery. He challenged the Government's supporters to give a full explanation of the proposals. in the absence of which he believed that the Bill would be of no help to industry and put many men out of work.
Lord Balfour stated that road trans port was created especially for the benefit of every individual trade. The railways were a rigid structure and traders had to adapt themselves to it, whereas road transport adapted itself to the needs of the traders.
Had the Government contemplated holding an inquiry—necessary when considering the integration and co-ordination of transport, asked Lord Balfour. "I want an assurance that one of the first things the British Transport Commission will do is to set on foot such an inquiry," he said.
The Lord Chancellor then rose. He began by saying that he did not claim that the Minister of Transport had any divine inspiration in selecting the figure
of 40 as the mileage limit for shortdistance haulage; equally he did not think Lord Teynham was divinely inspired in suggesting the figure of 80. Wherever the line was drawn, it was purely arbitrary.
In reply to statements that no records of the operations of various companies existed, Lord Jowitt pointed out that many dettols had to be given by hauliers to obtain petrol rations. A great deal of information existed about the extent of road transport undertakings and in the majority of cases it would not be difficult to decide whether a ' business was engaged on short or long-distance work.
A line had to be drawn between longdistance and short-distance traffic, and Lord Jowitt suggested that 40 miles was a fair limit. To clear away misconceptions of earlier speakers, the Lord Chancellor explained that a 40-mile journey qualified as "long distance" only if some part of it were outside a 25-mile radius.
He also stated that out of 81,000 A-licence vehicles, excluding those owned by the railways, under the existing test only about 20,000 would be taken over. If the qualifying limits were to be increased, a very small fraction would be acquired. In these circumstances, he said that he was astounded at his moderation in fixing the distance at 40 miles.
The amendment to increase the longdistance limit from 40 to 80 miles was carried by 73 votes to 21. The amendment to increase the short-distance radius from 25 to 50 miles was passed by 60 votes 21