One
20th June 1947
Page 27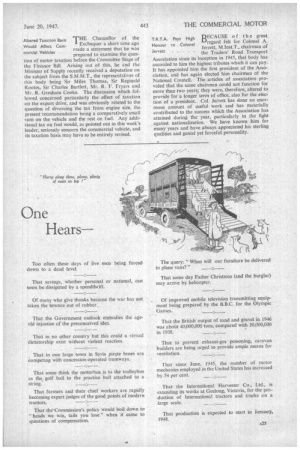 Page 27, 20th June 1947 —
One
Close
Hears—
Too often these days of live men being forced down to a dead level.
That savings, whether personal or national, can soon be dissipated by a spendthrift.
Of many who give thanks because the war has not taken the bounce out of rubber.
That the Government outlook embodies the ageold injustice of the preconceived idea.
That in no other country but this could a virtual dictatorship exist without violent reaction.
That in one large town in Syria pirate buses are competing with concession-operated tramways.
That some think the motorbus is to the trolleybus as the golf ball to the practice ball attached to a string.
That farmers and their chief workers are rapidly becoming expert judges of the good points of modern tractors.
That the-Commission's policy would boil down to "heads we win, tails you lose" when it came to questions of compensation.
The query: "When will our furniture be delivered in plane vans?"
That some day Father Christmas (and the burglar) may arrive by helicopter.
Of improved mobile television transmitting equipment being prepared by the B.B.C. for the Olympic Games.
That the British output of sand and gravel in 1946 was about 40,000,000 tons, compared with 30,000,000 in 1938.
That to prevent exhaust-gas poisoning, caravan builders are being urged to provide ample means for ventilation.
That since June, 1945, the number of motor mechanics employed in the United States has increased by 54 per cent.
That the International Harvester Co., Ltd., is extending its works at Geelong, Victoria, for the production of International tractors and trucks on a large scale.
That production is expected to start in January, 1948.