High praise for MI. repairs
20th July 1985
Page 8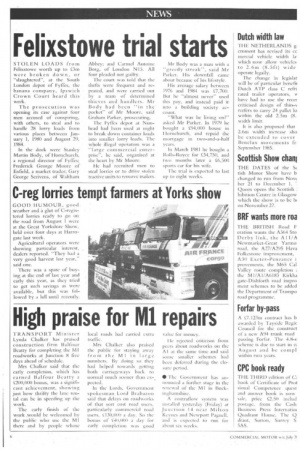 Page 8, 20th July 1985 —
High praise for MI. repairs
Close
TRANSPORT Minister Lynda • Chalker has praised construction firm Balfour Beatty for completing the Ml roadworks at Junction 8 five days ahead of schedule.
Mrs Chalker said that the early completion, which has earned Balfour Beatty a i'200,000 bonus, was a significant achievement, showing just how thrifty the lane rental can be in speeding up the work.
The early finish of the work ,would be welcomed by the public who use the MI there and by people whose local roads had carried extra traffic.
• Mrs Chalker also praised the public for staying away from the M 1 in large numbers. By doing so they had helped towards getting both carriageways back to normal much sooner than expected.
In the Lords, Government spokesman Lord Brabazon said that delays on roadworks of that sort cost road users, particularly commercial road users, 'CI 30,000 a day. So the bonus of i.:40,000 a day for early completion was good value for money.
He rejected criticism from peers about roadworks on the Al at the same time and said some smaller schemes had been deferred during the closure period.
• The Government has announced a further stage in the renewal of the MI in Buckinghamshire.
A corm-allow system was installed yesterday (Friday) at Junction 14 near Milton Keynes and Newport Pagriell, !Ind is expected to run for about six weeks.