Felixstowe trial starts
20th July 1985
Page 8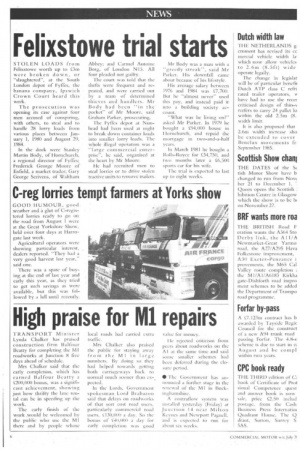 Page 8, 20th July 1985 —
Felixstowe trial starts
Close
STOLEN LOADS from Felixstowe worth up to Om were broken down, or "slanghtered", at the South London depot of Fyffes, the banana company, Ipswich Crown Court heard this week.
The prosecution was opening its case against four men accused of conspiring, with others, to steal and to handle 28 lorry loads from various places between January 1, 1980 and August 29, 1984.
In the dock were Stanley Martin Body, of Hornchurch, a regional director of Fyffes; Frederick George Moore of Enfield, a market trader; Gary George Scrivens, of Waltham Abbey; and Carmel Antoine Borg, of London N15. All four pleaded not guilty.
The court was told that the thefts were frequent and repeated, and were carried out by a team of determined thieves and handlers, Mr Body had been "in the pocket" of Mr Moore, said Graham Parker, prosecuting.
The Fyffes depot at Nunhead had been used at night to break down container loads into smaller lorry loads. "Hie whole illegal operation was a "large commercial enterprise", he said, organised at the heart by Mr Moore.
He had recruited men to steal lorries or to drive stolen tractive units to remove trailers. Mr Body was a man with a "greedy streak", said Mr Parker. His downfall came about because of his lifestyle.
His average salary between 1976 and 1984 was 0,700. But he "almost never" used this pay, and instead paid it into a building society account.
"What was he living on?" asked Mr Parker. In 1979 he bought a 04,000 house in I lornchurch, and repaid the mortgage in two-and-a-half years.
In March 1981 he bought a Rolls-Royce for 134,750, and two months later a .C:6,500 sports car for his wife.
The trial is expected to last up to eight weeks.