• mho repair confusion
20th July 1985
Page 7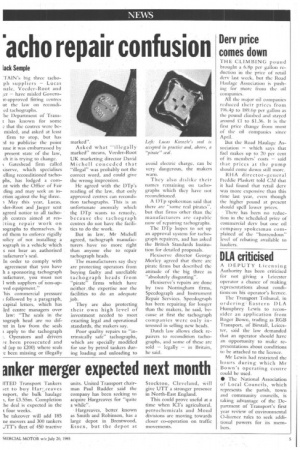 Page 7, 20th July 1985 —
• mho repair confusion
Close
lack Semple
TAIN's big three tachoph suppliers — Lucas nzle, Yeeder-Root and ;er — have misled Governit-approved fitting centres ut the law on recondied tachographs.
he Department of Trans has known for some z• that the centres were bemisled, and asked at least firm tu stop, but has !d to publicise the point iuse it was embarrassed by present state of the law, ch it is trying to change.
Gateshead firm called ciserve, which specialises • elling reconditioned tachophs, has lodged a COMnt with the Office of Fair ding and may seek an inction against the big three.
May this year, Lucas, 'der-Root and Jaeger -sent agreed notice to ;all tachoph centres aimed at res:tin g repair work on lographs to themselves. It ed them to enforce rigidly )olicy of not installing a iograph in a. vehicle which s not bear an authorised mfacturer's seal.
In order to comply with agreement that you have h a sponsoring tachograph aufacturer, you must not I with suppliers of non-apved equipment."
'his commercial pressure ; followed by a paragraph, capital letters, which has 10 centre managers over law: "The seals in the mgraph head are no (lit; Tit in law from the seals apply to the tachograph
Operators and drivers te been prosecuted and ,c1 (up to 200) where seals -c been missing or illegally
marked".
Asked what "illegally marked" means, Veeder-Root UK marketing director David Michell conceded that "illegal" was probably not the correct word, and could give the wrong impression.
He agreed with the DTp's reading of the law, that only approved centres can recondition tachographs. This is an unfortunate anomaly which th.q, DTp Wantsto remedy, • because the tachograph centres do not have the facilities to do the work.
But in law, . Mr 'Michell agreed, tachograph manufacturers have no more right than anyone else to repair tachograph heads.
The manufacturers say they are protecting operators from buying faulty and unreliable tachograph heads from "pirate" firms which have neither .the expertise nor the facilities to do an adequate job.
They are also protecting their own high level of investment needed to meet exacting legal and operational .standards, the makers say.
Poor quality repairs to "intrinsically safe" tachographs, which are specially modified for use by petrol tankers during loading and unloading to avoid electric charge, can be very dangerous, the makers warn.
They also dislike their names remaining on tachographs which they have not reconditioned.
A DTp spokesman said that there are "sonic real pirates", but that firms Other • than the manufacturers are capable now of repairing tachographs.
The DTp hopes to set up an approval system for tachograph repairers, and has .asked the Biitish Standards Institu
tion for detailed proposals. • Flexiserve director George Morley agreed that there are pirate firms but described the attitude of the big three as "absolutely disgusting",
Flexiserve's repairs are done by two Nottingham firms, Speedograph and Instrument Repair Services. Speedograph has been repairing for longer than the makers, he said, because. at first the tachograph companies were only interested in selling new heads.
Dutch law allows clock repairers to recondition tachographs, and sonic of these are sold — legally — in Britain, he said.