Ford to stop making truck axles
20th July 1985
Page 6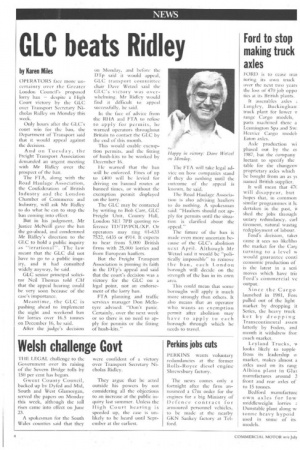 Page 6, 20th July 1985 —
Ford to stop making truck axles
Close
FORD is to cease mai Luring its own truck over the next two years the loss of 470 job oppo tics at its British plants.
It assembles axles ; Langley, Buckingham truck plant for lower v range Cargo models, parts machined there a Leamington Spa and Sw. Heavier Cargo model Eaton axles.
Axle production wi phased out by the et 1987, but the company luctant to specify the table for the changeov proprietary axles which be bought from an as yt named British supplier.
It will mean that 47t. will disappear, but hopes that, in common similar programmes it In dertaken in the past, ii shed the jobs thiough untary redundancy, earl tirement, natural wastag redeployment of labour.
Ford's decision, takei cause it sees no likeliho the market for the Caq turning to a level V+ would guarantee conti economic production of is the latest in a seri moves which have trir Ford's commercial ve output.
Since the Cargo launched in 1981, Fort pulled out of the light market by dropping it Series, the heavy .truck ket by dropping Transcontinental assen latterly by Foden, and month it withdrew fror coach market.
Leyland Trucks, looks likely to topple from its leadership o: market, makes almost a axles used on its rang Albion plant in Gla manufactures around 3 front and rear axles of to 15 tonnes.
Bedford manufacture own axles for low middleweight lorries z Dunstable plant along w tonne heavy hypoid used in some of its models.