BIRD'S-EYE VIEW
20th July 1985
Page 53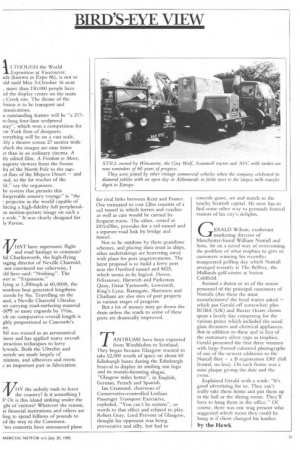 Page 53, 20th July 1985 —
BIRD'S-EYE VIEW
Close
iLTHOUGH the World Exposition at Vancouver, ada (known as Expo 86), is not to eld until May 2-October 16 next , more than 150,000 people have ed the display centre on the main 2 Creek site. The theme of the bition is to be transport and munications.
n outstanding feature will be "a 217re-long four-lane sculptural way", which won a competition for '.,w York firm of designers.
verything will be on a vast scale, . .bly a theatre screen 27 metres wide vhich•the images are nine times .'..r than in an ordinary cinema. A tly edited film, A Freedom to Move, nsports viewers from the frozen Ira of the North Pole to the sunc1 flats of the Mojave Desert — and and, to the far reaches of the Id," say the organisers.
he system that permits this forgettable sensory voyage" is "the r projector in the world capable of iucing a high-fidelity full'peripheralin motion-picture image on such a e scale." It was clearly designed for ly Parton.
HAT have supersonic flight and road haulage in common? hil Charlesworth, the high-flying iaging director of Neville Charrold, not convinced me otherwise, I ild have said: "Nothing". The wer is: "Expansion."
lying at 1,300mph at 60,000ft, the nendous heat generated lengthens icorde by 9in. Travelling on the und, a Neville Charrold Ultralite )er carrying road-surfacing material ,505F or more expands by 11/2in, [eh on comparative overall length is ghly proportional to Concorde's ire.
'hil was trained as an aeronautical ineer and has applied many aircraft struction techniques to lorry lywork. Both the Ultralite and acorde are made largely of ininium, and adhesives and rivets an important part in fabrication.
HY the unholy rush to leave the country? Is it something I I? Or is this island sinking under the .ght of visitors? Whatever the reason, at financial institutions and others arc ling to spend billions of pounds to ed the way to the Continent.
"wo consortia have announced plans
47
for rival links between Kent and France. One estimated to cost i2bn consists of a rail tunnel in which lorries and coaches as well as cars would he carried by frequent trains. The other, costed at £41/2-15bn, provides for a rail tunnel and a separate road link by bridge and tunnel.
Not to be outdone by these grandiose schemes, and placing their trust in ships, other undertakings are beavering away with plans for port improvements. The latest proposal is to build a ferry port near the Dartford tunnel and M25, which seems to be logical. Dover, Felixstowe, Harwich and Parkeston Quay, Great Yarmouth, Lowestoft, King's Lynn, Ramsgate, Sheerness and Chatham are also sites of port projects in various stages of progress.
But a lot of money may go down the drain unless the roads to some of these ports are drastically improved.
TANTRUMS have been exported from Wimbledon to Scotland. They began because Glasgow wanted to take £2,000 worth of space on about 60 Edinburgh buses during the Edinburgh Festival to display its smiling sun logo and its morale-boosting slogan, "Glasgow miles better", in English, German, French and Spanish.
Ian Cramond, chairman of Conservative-controlled Lothian Passenger Transport Executive, exploded, "You can't be serious", or words to that effect and refused to play. Robert Gray, Lord Provost of Glasgow, thought his opponent was being provocative and silly, but had to concede game, set and match to the touchy Scottish capital. He now has to find some other way to persuade festival .visitors of his city's delights.
GERALD Wilson, exuberant marketing director of Manchester-based William Nuttall and Sons, hit on a novel way of overcoming the problem of what trophies to give to customers winning his recentlyinaugurated golfing day which Nuttall arranged recently at The Belfrey, the Midlands golf-centre at Sutton
Cold field.
Around a dozen or so of the senior personnel of the principal customers of Nuttalls (Are these the mint manufacturers? the head waiter asked — which put Gerald off somewhat) plus ROBA (UK) and Baxter Hoare clients spent a lovely day competing for the various prizes which included the usual glass decanters and electrical appliances. But in addition to these and in lieu of the customary silver cups as trophies, Gerald presented the first three winners with large framed coloured photographs of one of the newest additions to the Nuttall fleet — a B registration ERF (full frontal, no less). On each frame was a mini plaque giving the date and the event.
Explained Gerald with a wink: "It's good advertising for us. They can't . really take them home and put them up in the hall or the dining room. They'll have to hang them in the office." Of course, there was one wag present who suggested which room they could be hung in if client changed his haulier.
by the Hawk