Help us get those famine lorries running
20th July 1985
Page 5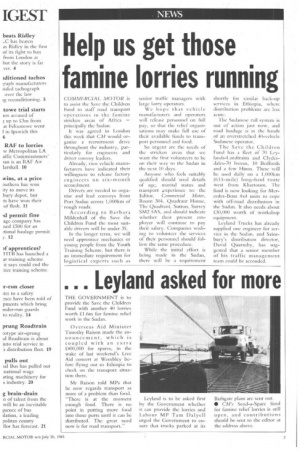 Page 5, 20th July 1985 —
Help us get those famine lorries running
Close
COMMERCIAL MOTOR is to assist the Save the Children Fund to staff road transport operations in the famine stricken areas of Africa principally the Sudan.
It was agreed in London this week•that CM would organise a. recruitment drive throughout the industry, particularly for engineers and driver convoy leaders.
Already, two vehicle manufacturers have indicated their willingness to release factory engineers on six-month secondment.
Drivers are needed to organise and lead convoys from Port Sudan across 1,000km of rough roads.
-According to Barbara IVIildenhall of the Save the Children Fund the most suitable drivers will be under 35.
In the longer term, we will need apprentice mechanics or young people from the Youth Training Scheme, but there is an immediate requirement for logistical experts such as senior traffic managers with large lorry operators.
We hope that vehicle manufacturers and operators will release personnel on full pay, so that the relief organisations may make full use of their available funds to transport personnel and food.
So urgent are the needs of the stricken areas that we want the first volunteers to he on their way to the Sudan in the next 10 days.
Anyone who feels suitably qualified should send details of age, marital status and transport .experience to: the Editor, Commercial Motor, Room 304, Quadrant House, The Quadrant, Sutton, Surrey SM2 5.AS, and should indicate whether their present employer will continue to pay their salary. Companies wishing to volunteer the services of their personnel should follow the same procedure.
While the initial effort is being made in the Sudan, there will be a requirement shortly for similar back-up services in Ethiopia, where distribution problems are less acute.
The Sudanese rail system is out of action just now, and road haulage is in the hands of an overstretched 40-\,ehiele Sudanese operator.
The Save the Children Fund has a fleet of 70 Leylands4,andtrains and Clydesdales-70 IveCos, 10 Bedfords. and a few Hinos. These will be used dailyon a 1,000km (615-mile) long-haul route west from Khartoum. The fund is now looking for Mercedes-Benz 4x4 units to cope with off-road distribution in the Sudan. It also needs about .£30,000 worth of workshop equipment.
Leyland Trucks has already supplied one engineer for service in the Sudan, and Sainsbury's distribution director, David Quarmby, has suggested that a senior member of his traffic management team could be seconded.