. . . Leyland asked for more
20th July 1985
Page 5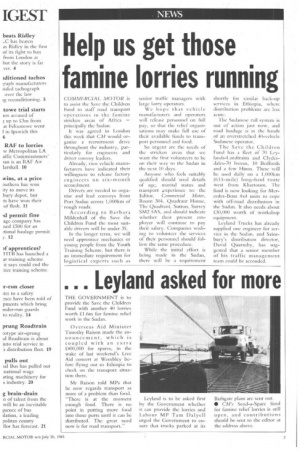 Page 5, 20th July 1985 —
. . . Leyland asked for more
Close
THE GOVERNMENT is to provide the Save the Children Fund with another 40 lorries worth £1.6m for famine relief work in the Sudan.
Overseas Aid Minister Timothy Raison made the anno uncem ent, which is coupled with an extra £400,000 for spares, in the wake of last weekend's Live Aid concert at Wembley before flying out to Ethiopia to check on the transport situation there.
Mr Raison told MPs that he now regards transport as more of a problem than food. "There is at the moment enough food. There is no point in putting more food into those ports until it can be distributed. The great need now is for road transport." Leyland is to be asked first by the Government whether it can provide the lorries and Labour MP Tarn Dalyell urged the Government to ensure that trucks parked at its 13athgate plant are sent out.
• CM'sSend-a-Sparc fund for famine relief lorries is still open, and contributions should be sent to the editor at the address above.