HELP US FIND A HERO
20th July 1985
Page 48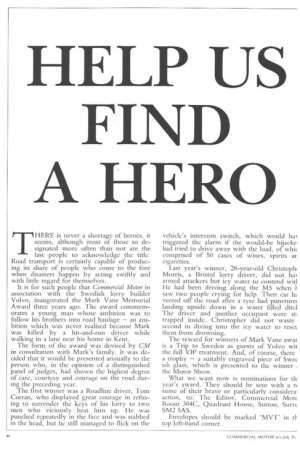 Page 48, 20th July 1985 —
HELP US FIND A HERO
Close
THERE is never a shortage of heroes, it seems, although most of those so designated more often than not are the last people to acknowledge the title. Road transport is certainly capable of producing its share of people who come to the fore when disasters happen by acting swiftly and with little regard for themselves.
It is for such people that Commercial Motor in association with the Swedish lorry builder Volvo, inaugurated the Mark Vane Memorial Award three years ago. The award commemorates a young man whose ambition was to follow his brothers into road haulage — an ambition which was never realised because Mark was killed by a hit-and-run driver while walking in a lane near his home in Kent.
The form of the award was devised by CM in consultation with Mark's family. It was decided that it would be presented annually to the person who, in the opinion of a distinguished panel of judges, had shown the highest degree of care, courtesy and courage on the road during the preceding year. The first winner was a Roadline driver, Tom Curran, who displayed great courage in refusing to surrender the keys of his lorry to two men who viciously beat him up. He was punched repeatedly in the face and was stabbed in the head, but he still managed to flick on the vehicle's intercom switch, which would hal triggered the alarm if the would-be hijacke had tried to drive away with the load, of whic comprised of 50 cases of wines, spirits ar cigarettes.
Last year's winner, 28-year-old Christophi Morris, a Bristol lorry driver, did not ha) armed attackers but icy water to contend wit] He had been driving along the M5 when I saw two people crying for help. Their car ho veered off the road after a tyre had puncture( landing upside down in a water filled ditcl The driver and another occupant were sti trapped inside. Christopher did not waste second in diving into the icy water to resa them from drowning.
The reward for winners of Mark Vane awat is a Trip to Sweden as guests of Volvo wit the full VIP treatment. And, of course, there a trophy — a suitably engraved piece of Swec ish glass, which is presented to the winner ; the Motor Show.
What we want now is nominations for th year's award. They should be sent with a r( sume of their brave or particularly consideral action, to: The Editor, Commercial Mot( Room 304C, Quadrant House, Sutton, Surre SM2 5AS.
Envelopes should be marked 'NWT in tltop left-hand corner.