JAPANESE REFLATE
20th July 1985
Page 39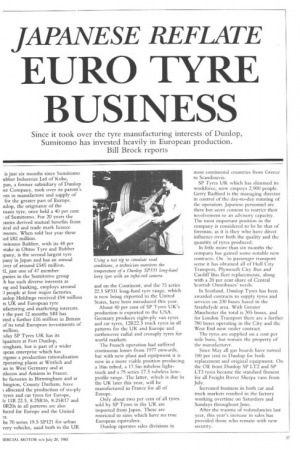 Page 39, 20th July 1985 —
JAPANESE REFLATE
Close
EURO TYRE BUSINESS
Since it took over the tyre manufacturing interests of Dunlop, Sumitomo has invested heavily in European production. Bill Brock reports
is just six months since Sumitomo ubber Industries Ltd of Kobe, pan, a former subsidiary of Dunlop )er Company, took over its parent's !sts in manufacture and supply of for the greater part of Europe. inlop, the originator of the matic tyre, once held a 40 per cent of Sumitomo. For 20 years the )anies derived mutual benefits from neat aid and trade mark licence !ments. Whcn sold last year these ied £82 million.
mitomo Rubber, with its 48 per stake in Ohtsu Tyre and Rubber ipany, is the second largest tyre pany in Japan and has an annual 3ver of around £545 million. tl, just one of 47 member panics in the Sumitomo group :h has such diverse interests as ng and banking, employs around people at four major factories. unlop Holdings received £94 million ts UK and European tyre ufacturing and marketing interests. r the past 12 months SRI has sted a further £16 million in Britain af its total European investments of million.
aday SP Tyres UK has its !quarters at Fort Dunlop, ningharn, but is part of a wider )pean enterprise which has :.rgone a production rationalisation rporating plants at Wittlich and au in West Germany and at itlucon and Amiens in France. he factories in Birmingham and at hington, County Durham, have allocated the production of six-ply tyres and car tyres for Europe, le 11R 22.5, 8.25R16, 8.25R17 and OR2Os in all patterns are also luced for Europe and the United he 70 series 19.5 SP121 for urban very vehicles, used both in the UK and on the Continent, and the 73 series 22.5 SP331 long-haul tyre range, which is now being exported to the United States, have been introduced this year.
About 40 per cent of SP Tyres UK's production is exported to the USA. Germany produces eight-ply van tyrcs and car tyres, 12R22.5 truck tyres in all patterns for the UK and Europe and earthmover radial and crossply tyres for world markets.
The French operation had suffered continuous losses from 1977 onwards, but with new plant and equipment it is now in a more viable position producing a 16in tubed, a 17.5in tubeless lighttruck and a 75 series 17.5 tubeless lowprofile range. The latter, which is due in the UK later this year, will be manufactured in France for all of Europe.
Only about two per cent of all tyres sold by SP Tyres in the UK are imported from Japan. These are restricted to sizes which have no true European equivalent.
Dunlop operates sales divisions in most continental countries from Greece to Scandinavia.
SP Tyres UK which has slimmed its workforce, now ernpoys 2,900 people. Gerry Radford is the managing director in control of the day-to-day running of the operation. Japanese personnel are there but seem content to restrict their involvement to an advisory capacity. The most important position in the company is considered to be be that of foreman, as it is they who have direct influence over both the quality and the quantity of tyres produced.
In little more than six months the company has gained some notable new contracts. On he passenger transport scene it has obtained all of Hull City Transport, Plymouth City Bus and Cardiff Bus fleet replacements, along with a 20 per cent share of Central Scottish Omnibuses' needs.
In Scotland, Dunlop Tyres has been awarded contracts to supply tyres and services on 230 buses based in the Strathclyde area. With Greater Manchester the total is 305 buses, and for London Transport there arc a further 780 buses operating in the City and the West End now under contract.
The tyres are supplied on a cost per mile basis, but remain the property of the manufacturer.
Since May all gas boards have turned 100 per cent to Dunlop for both replacement and original equipment. On the OE front Dunlop SP LT2 and SP LT3 tyres became the standard fitment for all Freight Rover Sherpa vans from July.
Increased business in both car and truck markets resulted in the factory working overtime on Saturdays and Sundays throughout June.
After the trauma of redundancies last year, this year's increase in sales has provided those who remain with new security.