ESPOUSING OUR CAUSE
20th July 1985
Page 31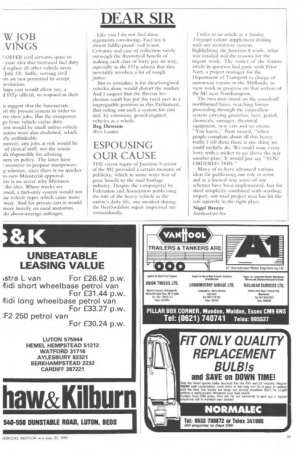 Page 31, 20th July 1985 —
ESPOUSING OUR CAUSE
Close
THE recent repair ofjunction 8 sector of the M1 provided a certain measure of publicity, which in some ways was of great benefit to the road haulage industry. Despite the campaign(s) by Federation and Association puhhetsing the role of the heavy vehicle in the nation's daily life, one incident during . the Hertfordshire repair impressed me tremendously, I refer to an article in a 5ninlay l'elegraph colour supplement dealing with our motorway system, highlighting the junction 8 work, what was entailed and the reasons For the urgent work. The writer of the feature article in question had gone with Peter Nutt, a project manager for the Department of Transport in charge of motorway repairs in the Midlands, to view work in progress on that section of the MI near Northampton.
The two men stood on the coned-off northbound lanes, watching lorries proceeding through the contra Flow system carrying groceries, beer, petrol, chemicals, sausages, theatrical
equipment, new cars inn] ice cream. "You know," Nutt mused. -when people•complain about all this heavy traffic I tell thern there is one thing we .could usefully do. We could issue every • lorry with a sticker to go above the rear number plate. It would just say "YOU ORDERED THIS."
Many of us have advanced various ideas for publicising our role in action and in a limited way sonic of our schemes have been implemented, but for sheer simplicity combined with .startling impact, our road project man has hit the nail squarely in the right place.
Nigel Breeze
Southold-on-Sea