SWT fined £200 for
20th July 1985
Page 24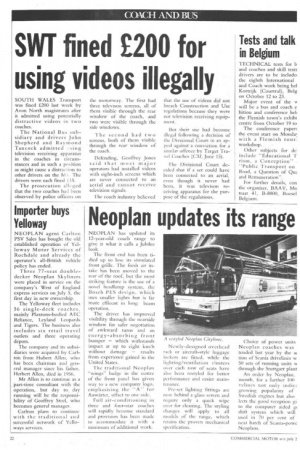 Page 24, 20th July 1985 —
SWT fined £200 for
Close
using videos illegally.
SOUTH WALES Transport was fined £200 last week by Avon North magistrates after it admitted using potentially distractive videos in two coaches.
The National Bus subsidiary and drivers John Shepherd and Raymond Tancock admitted :ising television receiving apparatus. in the coaches in circumstances and in such a position as might cause a distraction to other drivers on the M The drivers were each fined s:15.
The prosecution aileged that the two coaches had been observed by police officers on the motorway. Hie first had three televison screens, all of them visible through the rear window of the coach, and two were visible through the side windows.
The second had two screens, both of them visible through the rear window of the coach.
Defending, Geoffrey Jones said that most major operators had installed videos with eight-inch screens which are never connected to an aerial and cannot receive television signals.
The coach industry believed that the use of videos did not breach Construction and Use regulations because they were not television receiving equipment.
But their use had •become illegal following a decision of the Divisional Court in an appeal against a conviction for a similar offence by Target Travel Coaches (CM, June 15),
The Divisional Court decided that if a set could have been connected to an aerial, even though it never had been, it was televison receiving apparatus for the purpose of the regulations.