Trolleybus starts days at races
20th July 1985
Page 23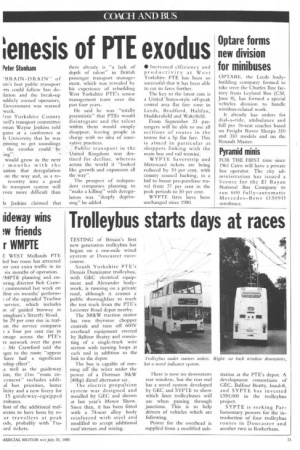 Page 23, 20th July 1985 —
Trolleybus starts days at races
Close
TESTING of Britain's first new generation trolleybus has begun on a one-mile wired system at Doncaster racecourse.
South Yorkshire PTE's Dennis Dominator trolleybus, with GEC electrical equipment and Alexander bodywork, is running On a private road, although it crosses a public thoroughfare to reach the test track from the PTE's Leicester Road depot nearby.
The 300kW traction motor has two thy ristor . chopper controls and runs off 600V overhead equipment erected by Balfour Beatty and consisting of a single-track wire section with turning loops at each end in addition to the link to the depot.
The bus is capable of running off the wires under the power of a Dorman 36kW (48hp) diesel alternator set. The electric propulsion system was designed and installed by GEC and shown at last year's Motor Show. Since then, it has been fitted with a 74-seat alloy body reinforced with steel and modified to accept additional roof stresses and wiring. There is now no downstairs rear window, but the rear end has a novel system developed by GEC and SYPTE to show which lines trolleybuseswill use when passing through junctions. This is to help drivers of vehicles which are following.
Power for the overhead is supplied from a modified sub station at the PTE's depot. A development consortium of GEC, Balfour Beatty, Insul-8, and SYPTE has invested 050,000 in the trolleybus project.
SYPTE is seeking Parliamentary powers for the introduction of four trolleybus routes in Doncaster and another two in Rotherham,