lenesis of PTE exodus
20th July 1985
Page 23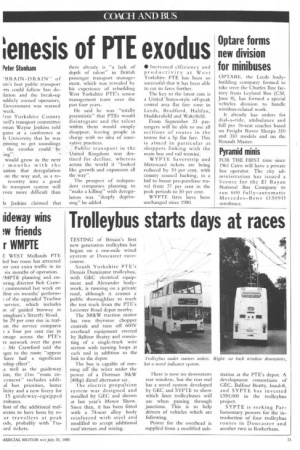 Page 23, 20th July 1985 —
lenesis of PTE exodus
Close
Peter Stonham
'BRAIN-DRAIN" of ain's best public transport .1-ts could follow bus delation and the break-up ,ublicly owned operators, Government was warned week.
rest Yorkshire County ncil's transport committee rman Wayne Jenkins told gates at a conference at Is University that he was ;inning to get soundings . the exodus could" be :Mg .
would grow in the next r months with the sation that deregulation on the way and, as a re
re-entry into a good lie transport system will even more difficult than 1r Jenkins claimed that there already is "a lack of depth of talent" in British passenger transport management, which was revealed by his experience of rebuilding West Yorkshire PTE's senior management team over the past four years.
He said he was -"totally pessimistic" that PTFs would disintegrate and the talent within them would simply disappear, leaving people in charge with no idea of inno
vative practices. .
Public -transport in the United • Kingdom was destined for decline, whereas across the world it "looked like growth and expansion all the way".
The prospect of independent companies planning to "make a killing" with deregulation was "deeply depressing" he added. • Increased efficiency and productivity at West Yorkshire PTE has been so successful that it has been able to cut its fares further.
The key to the latest cuts is a United States-style off-peak central area flat fare zone in Leeds, Bradford.; Halifax.; Huddersfield and Wakefield.
From September 23 passengers will be able to use all sections of routes in the towns for a 5p flat fare. This is aimed in particular at . shoppers linking, with the main bus and rail terrnini: WYPTE Saverstrip and Metrocard tickets are being reduced by 10 per cent, with county council backing, in a bid to boost pre-purchase travel from 37 per cent in the peak periods to 50 per cent.
WYPTE fares have been unchanged since 1980.