NBC declares UM
20th July 1985
Page 22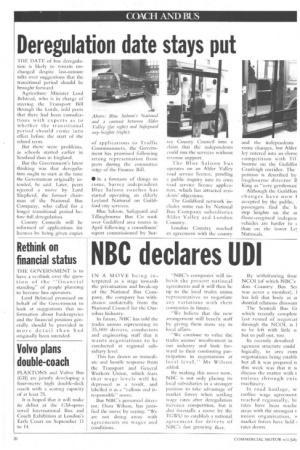 Page 22, 20th July 1985 —
NBC declares UM
Close
IN A MOVE being interpreted as a stage towards the privatisation and break-up of the National Bus Company, the company has withdrawn unilaterally from the National Council for the Omnibus Industry.
In future, NBC has told the trades unions representing its 35,000 drivers, conductors and engineering staff that it wants negotiations to be conducted at regional subsidiary level.
This has drawn an immediate and hostile response from the Transport and General Workers Union, which fears that wage levels will be depressed asaresult, and labelled it as a "callous and irresponsible" move.
But NBC's personnel director, Dion Wilson, has justified the move by saying: "We are not doing away with agreements on wages and conditions. "NBC's companies will inherit the present national agreements and it will then be up to the local trades union representatives to negotiate any variations with their companies in future.
"We believe that the new arrangement will benefit staff by giving them more say in local affairs.
"We continue to value the trades unions' involvement in our industry and look forward to their continuing participation in negotiations at local level," Mr Wilson added.
By making this move now, NBC is not only placing its local subsidiaries in a stronger position to take advantage of market forces when settling wage rates after deregulation increases competition, but it also Mrestalls a move by the Tc,wu to establish a national agreement for drivers of NBC's fast growing riect.
By withdrawing from NCOI (of which NBC's don Country Bus Ser was never a member), I has left that body as at &Istria] relations dinosaur The Scottish Bus Cir which recently complete last round of negotiat through the NCOI, is 1 to be left with little o: but to pull out, too.
Its recently devolved agement structure could logically, to area corn negotiations being estabh! but all it was prepared n this week was that it w discuss the matter with t unions through exis machinery.
In road haulage, w outline wage agreement: reached regionally, hi rates have been reache areas with the strongest t union organisation, v market forces have held rates down.