Deregulation date stays put
20th July 1985
Page 22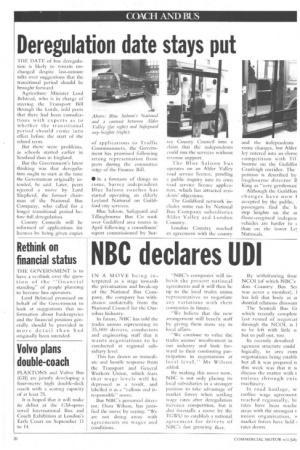 Page 22, 20th July 1985 —
Deregulation date stays put
Close
TI IF DATE of bus deregulation is likely to remain unchanged despite last-minute talks over suggestions that the transitional period should be brought forward.
Agriculture Minister Lord Belstead, who is in charge of steering the Transport Bill through the Lords, told peers that there had been consultations with experts as to whether the transitio'nal period should conic into effect before the start of the school term.
But there were problems, as schools started earlier in Scotland than in England.
But the Government's latest thinking was that deregulation ought to start at the time the Government originally intended, he said. Later, peers rejected a move by Lord Shepherd, the former chairman of the National Bus Company, who called for a longer transitional period before full deregulation, County Councils will be informed of applications for licences by being given copies of applications to Traffic Commissioners, the Government has promised following strong representation front peers during the committee stage of the Finance Bill.
• In a foretaste of things to come, Surrey independent Blue Saloon coaches has started operating an elderly Leyland National on Guildford 'city services.
Blue Saloon, Safeguard and Tillingbourne Bus Co took over Guildford area routes in April following a consultants' report commissioned by Sur
rey County Council into a claim that the independents could run the services without revenue support.
The Blue Saloon bus operates on an Alder Valley road service licence, pending a public inquiry into its own road service licence application, which has attracted residents' objections.
The Guildford network includes some run by National Bus Company subsidiaries Alder Valley and London Country.
London Country reached an agreement with the county and the independents route changes, but Alder Icy entered into an elerne competition with Til: bourne on the Guildfor Cranleigh corridor. The petition is described by lingbourne director B King as "very gentleman] Although the Guildforc changes have now I accepted by the public, : passengers find the h step heights on the in floor-engined inducn vehicles are harder to than on the lower Lei, Nationals.