Air-bag Roadtrain
20th July 1985
Page 21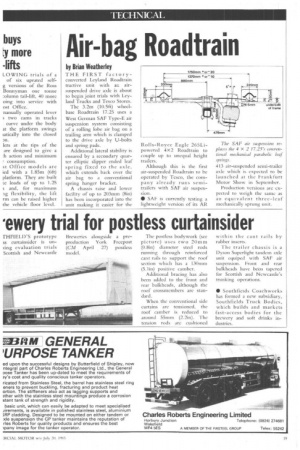 Page 21, 20th July 1985 —
Air-bag Roadtrain
Close
by Brian Weatherley
THE FIRST factoryconverted Leyland Roadtrain tractive unit with an airsuspended drive axle is about to begin joint trials with Leyland Trucks and Tesco Stores.
The 3.2m (10.5ft) wheelbase Roadtrain 17.25 uses a West German SAF Type-E air suspension system consisting of a rolling lobe air bag on a trailing arm which is clamped to the drive axle by U-bolts and spring pads.
Additional lateral stability is ensured by a secondary quarter elliptic slipper ended leaf spring fixed to the axle, which extends back over the air bag to a conventional spring hanger bracket.
A chassis raise and lower facility of up to 203mm (Sin) has been incorporated into the unit snaking it easier for the Rolls-Royce Eagle 265Lipowered 4x2 Roadtrain to couple up to unequal height trailers.
Although this is the first air-suspended Roadtrain to be operated by Tesco, the company already runs semitrailers with SAF air suspension.
• SAF is currently testing a lightweight version of its AR The SAF air suspension replaces the 4 X 2 17.2.5's conventional mechanical parabolic leaf springs.
413 air-suspended semi-trailer axle which is expected to be launched at the Frankfurt Motor Show in September.
Production versions are expected to weigh the same as an equivalent three-leaf mechanically sprung .unit.