All-weather roof
20th July 1985
Page 20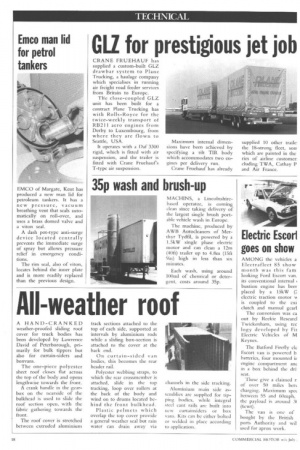 Page 20, 20th July 1985 —
All-weather roof
Close
A HAND-CRANKED weather-proofed sliding roof cover for truck bodies has been developed by Lawrence David of Peterborough, primarily for bulk tippers but also for curtain-siders and boxvans.
The one-piece polyester sheet roof closes flat across the top of the body and opens lengthwise towards the front.
A crank handle in the gearbox on the nearside of the bulkhead is used to slide the roof section open, with the fabric gathering towards the front.
The roof cover is stretched between extruded aluminium track sections attached to the top of each side, supported at intervals by aluminium rods while a sliding box-section is attached to the cover at the back end.
On curtain-sided van bodies, this becomes the rear header rail.
Polyester webbing straps, to which the rear crossmember is attached, slide in the top tracking, loop over rollers at the back of the body and wind on to drums located behind the front bulkhead.
Plastic pelmets which overlap the top cover provide a general weather seal but ram water can drain away via
channels in the side tracking.
Aluminium main side assemblies are supplied for tipping bodies, while integral steel cant rails arc built into new curtainsiders or box vans. Kits can be either bolted or welded in place according to application.