Under-run advances
20th July 1985
Page 16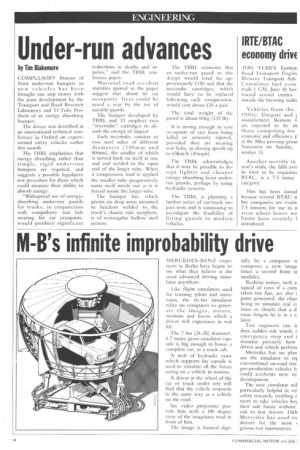 Page 16, 20th July 1985 —
Under-run advances
Close
by Tim Blakemore
COMPULSORY fitment of front under-run bumpers to new vehicles has been brought one step nearer with the joint development by the Transport and Road Research Laboratory and 11 Tube Products of an energy absorbing bumper.
The device was described at an international technical conference in Oxford on experimental safety vehicles earlier this month.
The TRRL emphaSises that energy absorbing rather than simple, rigid under-run bumpers are required, and suggests a possible legislative test procedure for them which could measure their ability to absorb energy.
"Widespread use of energyabsorbing under-run guards for trucks, in conjunction with compulsory seat belt wearing for car occupants, would produce significant reductions in deaths and injuries," said the TRRL conference paper.
National road accident statistics quoted in the paper suggest that about 60 car occupants' lives could be saved a year by the use of suitable guards.
The bumper developed by TRRL and TI employs two "invertubecartridges to absorb the energy of impact.
Each inyertube consists of two steel tubes of different diameters (1 0 Omm and 80mm), the smaller of which is turned back on itself at one end and welded to the open end of the larger tube. When a compression load is applied the smaller tube progressively turns itself inside out as it is forced inside the larger tube.
The bumper bar, which pivots on drop arms mounted to brackets welded to the truck's chassis side members, is of rectangular hollow steel section. The TRRL estimates that an under-run guard to this design would retail for approximately S:150 and that the invertube cartridges, which would have to be replaced following each compression, would cost about £35 a pair.
The total weight of the guard is about 60kg (132 lb).
It is strong enough to save occupants of cars from being killed or seriously injured, provided they are wearing seat belts, at closing speeds up to 65km/h (40mph).
The TRRL acknowledges that it may be possible to design lighter and cheaper energy absorbing front underrun guards, perhaps by using hydraulic systems.
The TRRL is planning a further series of car/truck impact tests and is continuing to investigate the feasibility of fitting guards to modern vehicles.