M-B's infinite improbability drive
20th July 1985
Page 16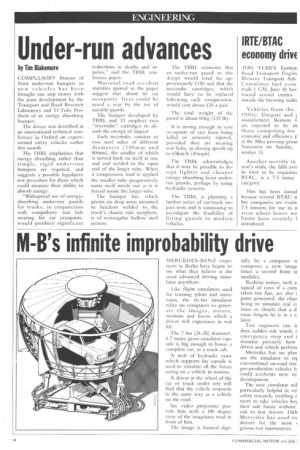 Page 16, 20th July 1985 —
M-B's infinite improbability drive
Close
MERCEDES-BENZ engineers in Berlin have begun to use what they believe is the most advanced driving simulator anywhere.
Like flight simulators used for training pilots and astronauts, the i:6.4m simulator relies on computers to generate the images, noises, motions and forces which a driver will experience in real life.
The 7.4m (24.3ft) diameter, 4.7 tonne gross simulator capsule is big enough to house a complete car, or a truck cab.
A web of hydraulic rams which supports the capsule is used to simulate all the forces acting on a vehicle in motion.
A driver at the wheel of the car or truck under test will find that the vehicle responds in the same way as a vehicle on the road.
Six video projectors provide him with a 180 degree view of the imaginary .road in front of him.
The image is formed digi
tally by a computer NI composes a new imagt times a second from st modules.
Realistic noises, such a: squeal of tyres if a corn taken too fast, are also c puter generated, the objei being to simulate real cc dons so closely that a d soon forgets he is in a s: lator.
Test engineers can duce sudden side winds, emergency stop and t monitor precisely how driver and vehicle perform Mercedes has no plan use the simulator to ret conventional on-road tria: pre-production vehicles b could accelerate new ve; development.
The new simulator wil particularly helpful in vel safety research, enabling e neers to take vehicles be their safe limits without risk to test drivers. Hith Mercedes has used ro drivers for the most gcrous test manoeuvres.