Stop Swiss rot Plaskett tells Government
20th July 1985
Page 15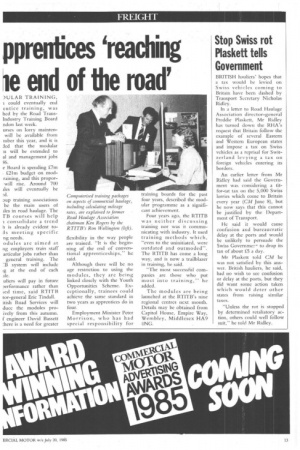 Page 15, 20th July 1985 —
Stop Swiss rot Plaskett tells Government
Close
BRITISH hauliers' hopes that a tax would be levied on Swiss vehicles coming to Britain have been dashed by Transport Secretary Nicholas Ridley.
In a letter to Road Haulage Association director-general Freddie Plaskett, Mr Ridley has turned down the RHA's request that Britain follow the example of several Eastern and Western European states and impose a tax on Swiss vehicles as a reprisal for Switzerland levying a tax on foreign vehicles entering its borders.
An earlier letter from Mr Ridley had said the Government was considering a titfor-tat tax on the 5,000 Swiss lorries which come to Britain every year (CM June 8), but he now .says that this cannot be justified by the Department of Transport.
He said it would cause confusion and bureaucratic delay at the ports and would be unlikely to persuade the Swiss Governme:to drop its tax of about £5 a day.
Mr Plaskett told CM he was not satisfied by this answer. British hauliers, hc said, had no wish to see confusion or delay at the ports, but they did want some action taken which would deter other states from raising similar taxes.
"Unless the rot is stopped by determined retaliatory action, others could well follow suit," he told Mr Ridley.