pprenfices 'reaching le end of the road'
20th July 1985
Page 15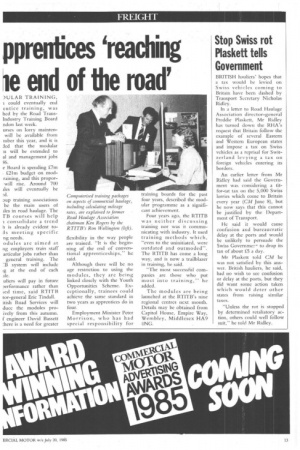 Page 15, 20th July 1985 —
pprenfices 'reaching le end of the road'
Close
DULAR TRAINING, could eventually end entice training, was bed by the Road TransIndustry Training Board ndon last week.
urses on lorry maintenwill be available from mber this year, and it is led that the modular n will be extended to al and management jobs 36.
e Board is spending Om £21m budget on modraining, and this proporwill rise. Around 700 iles will eventually be d.
Dup training associations be the main users of Iles in road haulage. The TB courses will help
consolidate a trend h is already evident tods meeting specific ng needs.
odules are aimed at rig employers train staff articular jobs rather than general training. The 7B system will include Lg at the end of each uliers will pay in future performance rather than ;ed time, said RTITB tor-general Eric Tindall. itish Road Services will duce the modules proively from this autumn.
f engineer David Bassett :here is a need for greater flexibility in the way people are trained. "It is the beginning of the end of conventional apprenticeships," he said.
Although there will be no age restriction to using the modules, they are being linked closely with the Youth Opportunities Scheme. Exceptionally, trainees could achieve the same standard in two years as apprentices do in four.
Employment Minister Peter Morrison, who has had special responsibility for training boards for the past four years, described the modular programme as a significant achievement.
Four years ago, the RTITB was neither discussing training nor was it communicating with industry. It used training methods which, "even to the uninitiated, were outdated and outmoded". The RTITB has come a long way, and is now a trailblazer in training, he said.
"The most successful companies are those who put most into training," he added.
The modules are being launched at the RTITB's nine regional centres next month. Details may be obtained from Capitol House, Empire Way, Wembley, Middlesex HA9 ONG.