'Green' driver with no 0 licence fine
20th July 1985
Page 14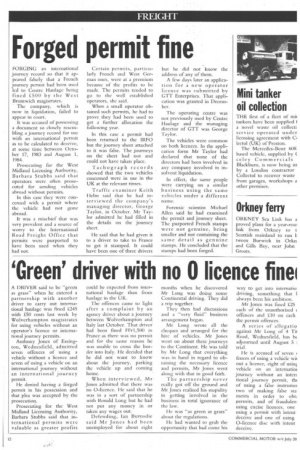 Page 14, 20th July 1985 —
'Green' driver with no 0 licence fine
Close
A DRIVER said to be "green as grass" when he entered a partnership with another driver to carry out international haulage was fined £245 with £50 costs last week by Wolverhampton magistrates for using vehicles without an operator's licence or international journey permits.
Anthony Jones of Essington, Wednesficld, admitted seven offences of using a vehicle without a licence and seven of using a vehicle on an international journey without an international journey permit.
• He denied having a forged permit in his possession and that plea was accepted by the prosecution.
Prosecuting for the West Midland Licensing Authority, Barbara Stubbs said that ,international permits were valuable as greater profits could be expected from international haulage than from haulage in the UK.
The offences came to light after a complaint by an agency driver about a journey between Wolverhampton and Italy last October. That driver had been fined FFr1,500 in France as there was no permit and for the same reason he was unable to cross the border into Italy. He decided that he did not want to know about the journey, parking the vehicle up and coming home.
When interviewed, Mr Jones admitted that there was no 0-licence. He said that he was in a sort of partnership with Ronald Long but he had not put any money in or taken any wages out.
Defending, Ian Burnsdie said Mr Jones had been unemployed for about eight months when he discovered Mr Long was doing sonic Continental driving. They did a trip together.
They then had discussions and a "very fluid" business arrangement began.
Mr Long wrote all the cheques and arranged for the hire of vehicles. Mr Jones went on about these journeys to the Continent. He was told by Mr Long that everything was in hand in regard to obtaining the necessary licence and permits, Mr Jones went along with that in good faith.
The partnership never really got off the ground and Mr Jones realised his stupidity in getting involved in the business in total ignorance of the law.
lie was "as green as grass" about the regulations.
He had wanted to grab the opportunity that had come his way to get into internatio. driving, something that I always been his ambition.
Mr Jones was fined £25 each of the unauthorised offences and £10 on each the permit offences.
A series of allegatio against Mr Long of 4 Tii Road, Wednesfield, has be adjourned until August 5 I trial.
He is accused of seven fences of using a vehicle wii out a licence, eight of usin vehicle on an internatioi journey without an interr tional journey permit, tin of using a false instrumei two of making false sta. ments in order to obL permits, and of fraudulerr using excise licences, one using a permit with intent deceive and one of using 0-licence disc with intent deceive.