Forged permit fine
20th July 1985
Page 14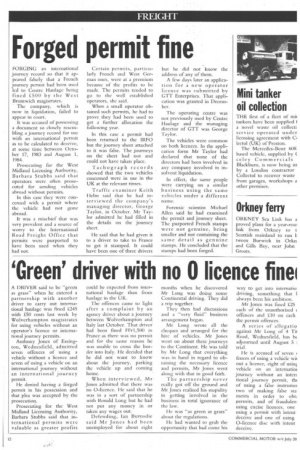 Page 14, 20th July 1985 —
Forged permit fine
Close
FORGING an international journey record so that it ap peared falsely that a• French journey permit had been used led to Centre Haulage being fined £5 0 0 by the West Bromwich magistrates.
The company, which is now in liquidation, failed to appear in court.
It was accused of possessing a document so closely resem bling a journey record for use with an international permit as to be calculated to deceive, at some time between October 17, 1983 and August 1, 1984.
Prosecuting for the West Midland Licensing Authority, Barbara Stubbs said that operators were often proSecuted for sending vehicles abroad without permits.
In this case they were concerned with a permit where the vehicle had not gone abroad.
It was a mischief that was very prevalent and a source of worry to the International 'Road Freight Office that permits were purported to have been used when they had not. Certain permits, particularly French and West German ones, were at a premium because of the profits to be made. The permits tended to go to the well established operators, she said.
When a small operator obtained such permits, he had to prove they had been used to get a further allocation the following year.
In this case a permit had been returned to the IRFO but the journey sheet attached to it was false. The journeys on the sheet had not and could not have taken place.
Tachograph records showed that the two vehicles concerned were in use in the UK at the relevant times.
Traffic examiner Keith Helm said that he had interviewed the company's managing director, George Taylor, in October. Mr Taylor admitted he had filled in the details on the journey sheet.
He said that he had given it to a driver to take to France to get it stamped. It could have been one of three drivers but he did not know the address of any of them.
A few days later an application for a new operator licence was submitted by GTT Enterprises. That application was granted in December.
The operating centre was not previously used by Centre Haulage and the managing director of GTT was George Taylor.
The vehicles were common on both licences. In the application form Mr Taylor had declared that none of the directors had been involved in any company involved in insolvent liquidation.
In effect, the same people were carrying on a similar .business using the same vehicles under a different name.
Forensic scientist Michael Allen said he had examined the permit and journey sheet. The purported French stamps were not genuine, being smaller and not containing the same detail as genuine stamps. He concluded that the stamps had been forged.