Poor roads justify rail link
20th July 1985
Page 13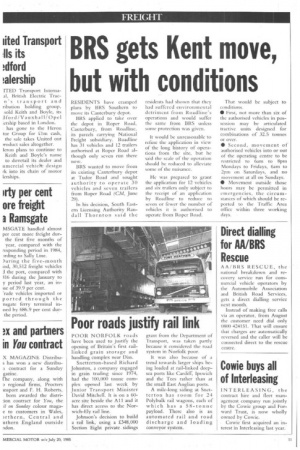 Page 13, 20th July 1985 —
Poor roads justify rail link
Close
POOR NORFOLK roads have been used to justify the opening of Britain's first raillinked grain storage and handling complex near Diss.
Snetterton-based Richard Johnston, a company engaged in grain trading since 1974, had the 100,000 tonne complex opened last week by Junior Transport Minister David Mitchell. It is on a 60acre site beside the All and it has direct access to the Norwich-Ely rail line.
Johnson's decision to build a rail link, using a £348,000 Section. Eight private sidings
grant from the Department of Transport, was taken partly because it considered the road system in Norfolk poor.
It was also because of a trend towards larger ships being loaded at rail-linked deepsea ports like Cardiff, Ipswich and the Tees rather than at the small East Anglian ports.
A mile-long siding at Snetterton has room for 24 Polybulk rail wagons, each of which has a 58-tonne payload. There also is an automated rail and road discharge and loading conveyor system.