Progress on Parade
20th July 1956
Page 57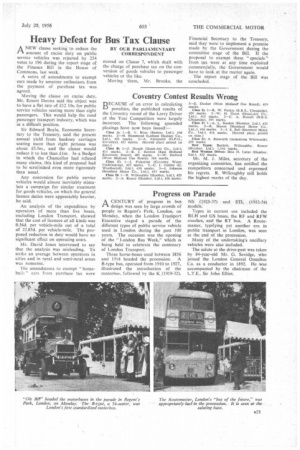 Page 57, 20th July 1956 —
Progress on Parade
Close
ACENTURY of progress in bus design was seen by large crowds of people in Regent's Park, London, on Monday, when the London Traaport Executive staged a parade of the different types of public service vehicle used in London during the past 100 years. The occasion was the opening of the "London Bus Week," which is being held to celebrate the centenary of London Transport.
Three horse-buses used between 1856 and 1914 headed the procession. A B-type bus, operated from 1910 to 1927, illustrated the introduction of the motorbus, followed by the K.(1919-32), NS (1923-37) and STL (1932-54) models.
Types in current use included the RLH and GS buses, the RF and RFW coaches, and the RT bus. A Routemaster, typifying yet another era in public transport in London, was seen at the end of the procession.
Many of the undertaking's ancillary vehicles were also included.
The salute at the drive-past was taken by 84-year-old Mr. G. Savidge, who joined the London General Omnibus Co. as a conductor in 1892. He was accompanied by the chairman of the L.T.E., Sir John Elliot.