Heavy Defeat for Bus Tax Clause
20th July 1956
Page 57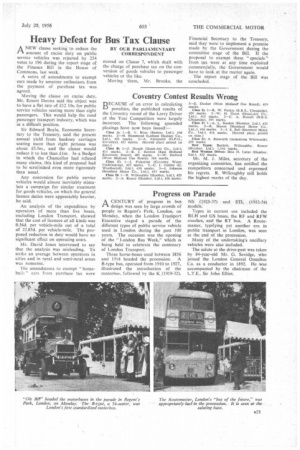 Page 57, 20th July 1956 —
Heavy Defeat for Bus Tax Clause
Close
BY OUR PARLIAMENTARY CORRESPONDENT
ANEW clause seeking to reduce the amount of excise duty on public service vehicles was rejected by 254 votes to 196 during the report stage of the Finance Bill in the House of Commons, last week.
A series of amendments to exempt cars made by amateur enthusiasts from the payment of purchase tax was agreed.
Moving the clause on excise duty, Mr. Ernest Davies said the object was to have a flat rate of £12 10s. for public service vehicles seating more than eight passengers. This would help the road passenger transport industry, which was in a difficult position.
Sir Edward Boyle, Economic Secretary to the Treasury, said the present annual yield from hackney carriages seating more than eight persons was about f5.5m., and the clause would reduce it to less than Lim. In a Budget in which the Chancellor had refused many claims, this kind of proposal had to be scrutinized even more rigorously than usual.
Any concession for public service vehicles would almost inevitably stimulate a campaign for similar treatment for goods vehicles, on which the general licence duties were appreciably heavier, he said.
An analysis of the expenditure by operators of more than five buses. excluding London Transport, showed that the cost of licences of all kinds was 0.56d. per vehicle-mile out of a total of 22.85d. per vehicle-mile. The proposed reduction in duty would have no significant effect on operating costs.
Mr. David Jones intervened to say that the analysis was misleading. To strike an average between operators in cities and in rural and semi-rural areas was nonsense..
The amendments to exempt " homebuii t " cars from purchase tax were moved on Clause 7, which dealt with the charge of purchase tax on the conversion of goods vehicles to passenger vehicles or the like.
Moving them, Mr. Brooke, the Financial Secretary to the Treasury, said they were to implement a promise made by the Government during the committee stage of the Bill. If the proposal to exempt these " specials " from tax were at any time exploited commercially, the Government would have to look, at the matter again.
The report stage of the Bill was concluded.