Exhaust Brakes Not for Petrol Engines
20th July 1956
Page 49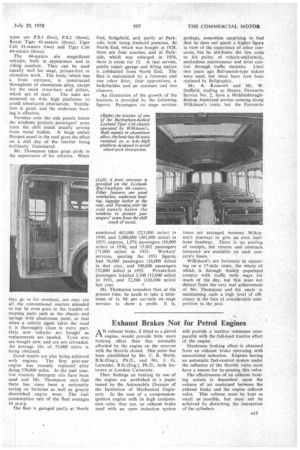 Page 49, 20th July 1956 —
Exhaust Brakes Not for Petrol Engines
Close
AN exhaust brake, if fittpd to a petrol engine, would provide little more braking effect than that normally afforded by the engine on the overrun with the throttle closed. This point has been established by Mr. C. R. Webb, B.Sc.(Eng.), Ph.D., and Mr. J. G. Lavender, B.Sc.(Eng.), Ph.D., both lecturers at London University.
Their findings on braking by use of the engine are published in a paper issued by the Automobile Division of the Institution of Mechanical Engineers. In the case of a compressionignition engine with its high compression ratio, they say, an exhaust brake used with an open induction system will provide a tractive resistance comparable with the full-load tractive effort of the engine.
Maximum braking effect is obtained from an exhaust brake operating with unrestricted induction. Engines having an automatic fuel-control system under the influence of the throttle valve must have a means for by-passing this valve.
The effectiveness of an exhaust braking system is dependent upon the volume of air contained between the exhaust brake and the engine exhaust valve. This volume must be kept as small as possible, hut must not he achieved by disturbing the interaction of the cylinders.