McVeigh Decision Reserved
20th July 1956
Page 43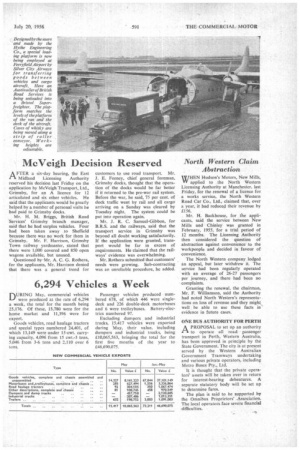 Page 43, 20th July 1956 —
McVeigh Decision Reserved
Close
AFTER a six-day hearing, the East Midland Licensing Authority reserved his decision last Friday on the application by McVeigh Transport, Ltd., Grimsby, for an A licence for 12 articulated and six other vehicles. He said that the applicants would be greatly helped by a number of personal visits he had paid to Grimsby docks.
Mr. H. M. Briggs, British Road Services' Grimsby branch manager, said that he had surplus vehicles. Four had been taken away to Sheffield because there was no work for them in Grimsby. Mr_ F. Harrison, Grimsby Town railway yardmaster, stated that there were 1,000 covered and 850 open wagons available, but unused_ Questioned by-Mr. A. C. G. Rothera, for the applicants, Mr_ Harrison denied that there was a general trend for customers to use road transport. Mr. 1. E. Feeney, chief general foreman, Grimsby docks, thought that the operation of the docks would be far better if it returned to the pre-war rail system. Before the war, he said, 75 per cent, of dock traffic went by rail and all cargo arriving on a Sunday was cleared by Tuesday night. The system could be put into operation again.
Mr. J. R. C. Samuel-Gibbon, for B.R.S. and the railways, said that the transport service in Grimsby was beyond all doubt working satisfactorily. If the application were granted, transport would be far in excess of requirements. He claimed that the railways' evidence was overwhelming. Mr. Rothera submitted that customers' needs were growing. Sub-contracting was an unreliable procedure, he added.