New Road Schemes: • No Fly-over Yet
20th July 1956
Page 42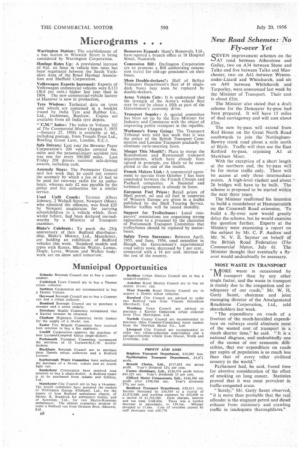 Page 42, 20th July 1956 —
New Road Schemes: • No Fly-over Yet
Close
SEVEN improvement schemes on the A5 road between Atherstone and Gailey, two on A34 between Stone and Talke and five between Talke and Manchester, two on A41 -between Westonunder-Lizard and Whitchurch, and six on A49 between Whitchurch and Tarporley, were announced last week by the Minister of Transport. Their cost is about nrn.
The Minister also stated that a draft scheme for the Doncaster by-pass had been prepared. It will have 15 miles of dual carriageway and will cost about E5m.
The new by-pass will extend from. Red House on the Great North Road southwards to join the NottinghamBawtry trunk road about a mile north of Blyth. Traffic will then use the East Rctford by-pass, rejoining Al at Markham Moor.
With the exception of a short length at the northern end, the by-pass will be for motor traffic only. There will be access at only three intermediate points. A high-level viaduct and about 26 bridges will have to be built. The scheme is proposed to be started within the next three years.
The Minister reaffirmed his intention to build a roundabout at Hammerstiffith on the Cromwell Road extension. To build a fly-over now would greatly delay the scheme, but he would examine the question further. Experts at the Ministry were examining a report on the subject by Mr. C. P. Andren and Mr. N. V. E. Seymer on behalf Of the British Road Federation (The Commercial Motor, July 6). The Minister thought that eventually a flyover would undoubtedly be necessary.
MOST WASTE IN TRANSPORT " UTORE waste is occasioned by
11'1 transport than by any other single factor, and the waste in transport is mainly due to the congestion and inadequacy of our roads," Mr. W. H. Gaily Saunt, chairman and joint managing director of the Amalgamated Roadstone Corporation, Ltd., told shareholders last week.
"The expenditure on roads of a fraction of the much-heralded expenditure on railways could eliminate most of the wasted cost of transport in a much shorter time," he said. "It is a national disgrace, and undoubtedly one of the causes of our economic difficulties, that our expenditure on roads. per capita of population is so much less than that of every other civilized country in the world."
Parliament had, he said, found time for abortive consideration of the effect of smoking on lung cancer. Statistics proved that it was most prevalent in traffic-congested areas.
"Sorely." Mr. Gatty Saunt observed,, "it is more than probable that the real, offender is the stagnant petrol and diesel exhaust from stationary and crawling traffic in inadequate thoroughfares."