Micrograms . • •
20th July 1956
Page 42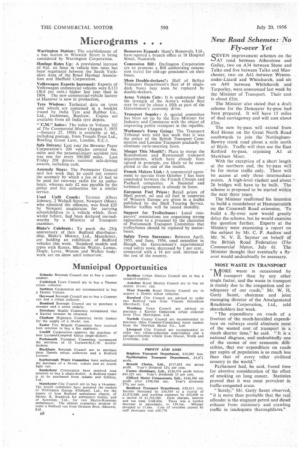 Page 42, 20th July 1956 —
Micrograms . • •
Close
Warrington Station: The establishment of a bus station in Winwick Street is being considered by Warrington Corporation.
Haulage Rates Up.: A provisional increase of 6fd. an hour m vehicle hire rates has been negotiated between the South Yorkshire Area of the Road Haulage Association and Sheffield Corporation.
Volkswagen Exports Increased: Exports of Volkswagen commercial vehicles were 8,133 (36.6 per cent.) higher last year than in 1954. The new commercial-vehicle factory at Hanover is now in production, Tyre Wisdom: Technical data on tyres and wheels are contained in a booklet iisued by India Tyre and Rubber Co., Ltd., Inchinnan, Renfrew. Copies are available from all India tyre depots.
" C.M." Index: The index to Volume 102 of The Commercial Motor (August 5, 1955 —January 27, 1956) is available at 4d., including postage, from Temple Press Ltd., Bowling Green Lane, London, E.C.1.
Safe Drivers: Last year the Bowater Paper Corporation's 200 vehicles covered 4m. miles and the personal-injury accident rate was one for every 500,000 miles. Last Friday 208 drivers received safe-driving awards, including cash.
Anomaly Stays: The Postmaster General said last week that he could not remove the anomaly by which a fee of £3 had to be paid for two-way radio for an ambulance, whereas only £2 was payable by the police and tire authorities for a similar service.
Used Unfit Coach: Terence Albert Johnsey, 2 Walsall Street, Newport (Mon), who admitted the offences, was tined £20 by Newport magistrates for carrying schoolchildren in a vehicle which, three weeks before, had been declared unroadworthy by a Ministry of Transport examiner.
Blake's Celebrate: To mark the _25th anniversary of their Bedford distributorship, Blake's Motors, Ltd., Manchester, are holding an exhibition of Bedford vehicles this week. Standard models and types with Kenex, Martin Walter, Lomas, Duple. Lever. Weston and Walker bodywork are on show until tomorrow. Removers Expand: Hunt's Removals, Ltd.. have opened a branch office at 18 Hospital Street, Nantwich.
Concession Bill: Darlington Corporation are to promote a Bill authorizing concession travel for old-age pensioners on their
buses.
More Double-deckers?: Half of Belfast Transport Department's fleet of 41 singledeck buses may soon be replaced by double-deckers, Army Vehicle. Cuts : It is understood that the strength of the Army's vehicle fleet may be cut by about a fifth as part of the Government's economy drive.
Transport Inquiry: A special committee has been set up by the Eire Minister for Industry and Commerce with the object of improving public transport in the republic.
Workmen's Fares Going: The Transport Tribunal were told last week that it was the policy of the British Transport Commission and London Transport gradually to eliminate early-morning fares.
Merger This Month?: Plans to merge the Ramsbottom and Rawtenstall transport departments, which have already been agreed in principle, are likely to be completed at the end of the month.
French Makers Link: A commercial agreement to operate from October 1 has been concluded between the French Citroen and Panhard companies. A financial and technical agreement is already in force.
European Fuel Prices: Retail prices of Shell petrol, oil and oil fuel in countries of Western Europe are given in a leaflet published by the Shell Touring Service. Similar leaflets will be issued monthly.
Support for Trolleybuses: Local ratepayers' associations are organizing strong opposition to a proposal by the chairman of Portsmouth Transport Committee that trolleybuses should be replaced by motorbuses.
Safety Town Successes: Between April, 1955, and June, 1956, road casualties in Slough, the Government's experimental road safety town, decreased by 1 per cent., compared with a 14 per cent, increase in the rest of the Country.