M. and .D. Revenue and Costs a Record
20th July 1956
Page 41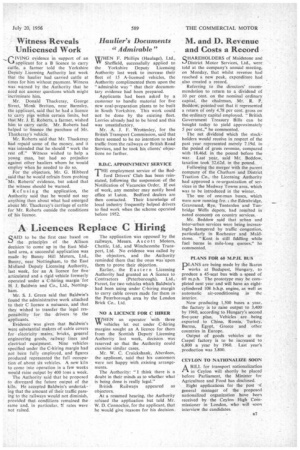 Page 41, 20th July 1956 —
M. and .D. Revenue and Costs a Record
Close
SHAREHOLDERS of Maidstone and District Motor Services, Ltd., were told at the company's annual meeting, on Monday, that whilst revenue had reached a new peak, expenditure had also created a record.
Referring to the directors' recommendation to return to a dividend of 10 per cent. on the nominal ordinary capital, the chairman, Mr. R. P. Beddow, pointed out that it represented a return of only 4.78 per cent. gross on the ordinary capital employed. "British Government Treasury Bills can be bought today to yield approximately 5 per cent"" he commented.
The net dividend which the stock; holders would receive in respect of the past year represented merely 7.19d. in the pound of gross revenue, compared with 18.46d. in the pound before the war. Last year, said Mr. Beddow, taxation took 32.62d. in the pound.
Following the merger with the parent company of the Chatham and District Traction Co." the Licensing Authority had approved a re-organization of services in the Medway Towns area, which was to be introduced in the winter.
The use of one-man buses, which were now running fro. 1 the Edenbridge, Gravesend, Rye, Tenterden and Tunbridge Wells depots, had resulted in noted economy on country services.
Mr. Beddow said that urban and inter-urban services were being increasinglyhampered by traffic congestion, particularly in Rochester and Maidstone. "Kent is still fiddling while fuel burns in mile-long queues." he commented.
PLANS FOR 60 M.P.H. BUS
PLANS are being made by the Ikarus works at Budapest, Hungary, to produce a 45-seat bus with a speed of 60 m.p.h. The prototype may be completed next year and will have an eightcylindered 108 b.h.p, engine, as well as automatic air-conditioning in the interior.
Now producing 1,500 buses a year, the factory is to raise output to 3,400 by 1960, according to Hungary's second five-year plan. Vehicles are being exported to China, Russia, Turkey, Burma, Egypt, Greece and other countries in Europe.
Output of goods vehicles at the Csepel factory is to be increased to 6,800 a year by 1960. Last year's production was 3.800.
CEYLON TO NATIONALIZE SOON ABILL for transport nationalization in Ceylon will shortly be placed before Parliament, the Minister for Agriculture and Food has disclosed.
Eight applications for the post -$1." general manager of the proposed nationalized organization have been received by the Ceylon High Commissioner in London, who will soon interview the candidates.