Haulier's Documents " Admirable"
20th July 1956
Page 41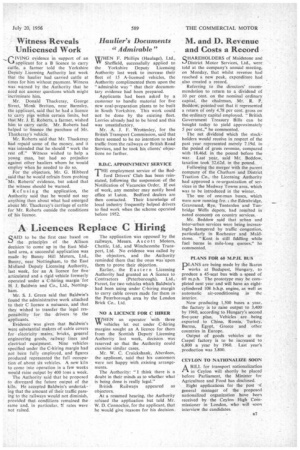 Page 41, 20th July 1956 —
Haulier's Documents " Admirable"
Close
WHEN F. Phillips (Haulage), Ltd., VV Sheffield, successfully applied to the Yorkshire Deputy Licensing Authority last week to increase their fleet of 15 A-licensed vehicles, the Authority complimented them upon the "admirable way" that their documentary evidence had been prepared.
Applicants had been asked by a customer to handle material for live new coal-preparation plants to be built in South Yorkshire. This work could not be done by the existing fleet. Lorries already had to be hired and this was unsatisfactory.
Mr. A. J. F. Wrottesley, for the British Transport Commission, said that there seemed to be no intention to take traffic from the railways or British Road Services, and he took his clients' objections no farther.
• B.D.C. APPOINTMENT SERVICE
THE employment service of the Bedford Drivers' Club has been reinstated, following the suspension of the Notification of Vacancies Order. If out of work, any member may notify head office at Luton. Bedford dealers are then contacted. Their knowledge of local industry frequently helped drivers to find work when the scheme operated before 1952.