ALicences Re place C Hiring
20th July 1956
Page 41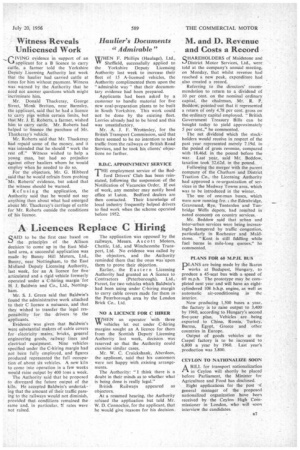 Page 41, 20th July 1956 —
ALicences Re place C Hiring
Close
SAID to be the first case based on the principles of the Allison decision to come' up in the East Midland area, a successful application was made by Bunny Hill Motors, Ltd., Bunny, near Nottingham, to the East Midland Deputy Licensing Authority, last week, for an A licence for five articulated and a rigid vehicle formerly operated under a C-hiring margin for H. J. Baldwin and Co., Ltd., Nottingham.
Mr. S. J. Green said that Baldwin's found the administrative work attached to their C licence a nuisance, and that they wished to transfer the legal responsibility for the drivers to the applicants.
Evidence was given that Baldwin's were substantial makers of cable covers for electricity mains, bricks, general engineering goods, railway lines and electrical equipment. Nine vehicles specified under the C-hiring margin had not been fully employed, and figures produced represented the full occupation of about six vehicles. A new kiln to come into operation in a few weeks would raise output by 400 tons a week.
The Authority said that he proposed to disregard the future output of the kiln. He accepted Baldwin's undertaking that the amount of their traffic passing to the railways would not diminish, provided that conditions remained the same and, in particular, 11 rates were not raised. The application was opposed by the railways, Messrs. Ascot t Motors, Chettle, Ltd., and Winchcombe Transport, Ltd. No evidence was called by the objectors, and the Authority reminded them that the onus was upon them to prove their objection.
Earlier, the Eastern Licensing Authority had granted an A licence to Contractors (Peterborough), Ltd., Farcet, for two vehicles which Baldwin's had been using under C-hiring margin to carry cable covers made for them in the Peterborough area by the London Brick Co.. Ltd.
NO A LICENCE FOR C HIRER WHEN an operator with three VY vehicles let out under C-hiring margins sought an A licence for them from the Scottish Deputy Licensing Authority last week, decision was reserved so that the Authority could examine similar cases.
Mr. W. C. Cruickshank, Aberdeen, the applicant, said that his customers were not happy with existing arrangements.
The Authority: " I think there is a doubt in their minds as to whether what is being done is really legal."
British Railways appeared as objectors.
At a resumed hearing, the Authority refused the application but told Mr. W. D. Connochie, for the applicant, that he would give reasons for his decision.