Staggering Campaign Starts in Autumn
20th July 1956
Page 40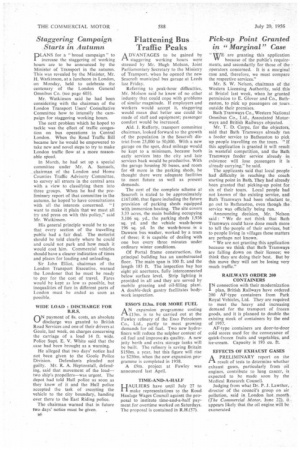 Page 40, 20th July 1956 —
Staggering Campaign Starts in Autumn
Close
PLANS for a "broad campaign" to increase the staggering of working hours are to be announced by the Minister of Transport in the autumn, This was revealed by the Minister, Mr. H. Watkinson, at a luncheon in London, on Monday, held to celebrate the centenary of the London General Omnibus Co. (sec page 603).
Mr. Watkinson said he had been considering with the chairman of the London Transport Users' Consultative Committee how to intensify the campaign for staggering working hours.
The next problem which he hoped to tackle was the effect of traffic congestion on bus operations in Central London. When the Road Traffic Bill became law he would be empowered to take new and novel steps to try to make London traffic flow at a more reasonable speed.
In March, he had set up a special committee under Mr. A. Samuels, chairman of the London and Home Counties Traffic Advisory Committee, to survey all streets in the central area with a view to classifying them into three groups. When he had the preliminary report of that committee in the autumn, he hoped 'to have consultations with all the interests concerned. "I want to make it plain that we must all try and press on with this policy," said Mr. Watkinson.
His general principle would be to see that every section of the travelling public had a fair deal. The motorist should be told clearly where he could and could not park and how much it would cost him. Commercial vehicles should have a clearer indication of times and places for loading and unloading.
Sir John Elliot, chairman of the London Transport Executive, warned the Londoner that he must be ready to pay for the cost of travel. Fares would be kept as low as possible, but inequalities of fare in different parts of London must be ended as soon as passible.
WIDE LOAD : DISCHARGE FOR B.R.S.
QN payment of 8s. costs, an absolute discharge was granted to British Road Services and one of their drivers at Goole, last week, on charges concerning the carriage of a load 14 ft. wide. Police Supt. E. V. White said that the case had been brought as a warning.
He alleged that two days' notice had not been given to the Goole Police Division. Defendants pleaded not guilty. Mr. R. A. Heptonstall, defending, said that movement of the load— two ship's propellers—was urgent. The depot had told Hull police as soon as they knew of it and the Hull police accepted the task of escorting the vehicle to the city boundary, handing over there to the East Riding police.
The chairman warned that in future two days' notice must be given. , 1:16