Pick-up point Granted in "Marginal" Case
20th July 1956
Page 40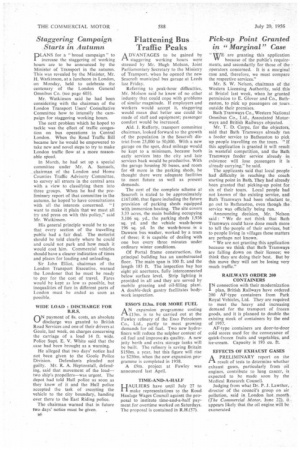 Page 40, 20th July 1956 —
Pick-up point Granted in "Marginal" Case
Close
" WE are granting this application because of the public's requirements, and secondarily for those of the operators concerned. It is a marginal case and, therefore, we must compare the respective services."
Mr. S. W. Nelson, chairman of the Western Licensing Authority, said this at Bristol last week, when he granted permission to E. Glover and Co., Batheaston, to pick up passengers on tours outside their premises.
Bath Tramways Co., Western National Omnibus Co., Ltd., Associated Motorways and British Railways objected.
Mr. T. D. Corpc, for the objectors, said that Bath Tramways already ran a feeder service to Batheas ton to pick up people travelling on the tours. " If this application is granted it will result in wasteful competition, and the Bath Tramways feeder service already in existence will lose passengers it is already carrying," he said.
The applicants said that local people had difficulty in reaching the coach starting point in Bath. They had already been granted that picking-up point for six of their tours. Local people had not known of the existing service, and Bath Tramways had been reluctant to go out to liatheaston, even though the service was officially being run_ Announcing decision, Mr. Nelson said : "We do not think that Bath Tramways could have done much more to tell the people of their services, but to people living in villages these matters arc perhaps not known.
"We are not granting this application because we think that Bath Tramways are falling down on their licence: we think they are doing their hest. But by this move they will not be losing very much traffic."
RAILWAYS ORDER 200 CONTAINERS I N connection with their modernization plan, British Railways have ordered 200 AF-type containers from Park Royal Vehicles, Ltd. They are required to meet the heavy and increasing demand for the transport of frozen goods, and it is planned to double the existing stock of containers by the end of 1957.
AF-type containers are door-to-door cold stores used for the conveyance of quick-frozen fruits and vegetables, and ice-cream. Capacity is 193 cu. ft.
EFFECTS OF EXHAUST GASES APRELIMINARY report on the result of tests to determine whether exhaust gases, particularly from oil engines, contribute to lung cancer, is expected to be made soon by the Medical Research Council.
Judging from what Dr. P. J. Lawther, director of the council's group on air pollution, said in London last month, (The Commercial Motor, June 22), it appears likely that the oil engine will be exonerated