Flattening Bus Traffic Peaks
20th July 1956
Page 40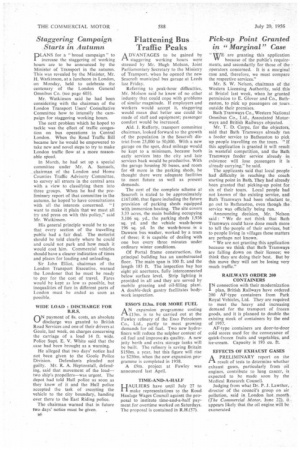 Page 40, 20th July 1956 —
Flattening Bus Traffic Peaks
Close
DVANTAGES to be gained by 1—L staggering working hours were
stressed by Mr. Hugh Molson, Joint Parliamentary Secretary to the Ministry of Transport, when he opened the new Seacroft municipal bus garage at Leeds last Friday.
Referring to peak-hour difficulties, Mr. Molson said he knew of no other industry that could cope with problems of similar magnitude. If employers and workers would accept it, staggering would mean that better use could be made of staff and equipment; passenger comfort would be increased.
Aid. J. Rafferty, transport committee chairman, looked forward to the growth of the population in the Seacroft dis trict from 25,000 to 50,000. With a new garage on the spot, dead mileage would he kept to a minimum, because both early services into the city and late services back would be productive. With the garage housing 50 buses, and room for 48 more in the parking sheds, he thought there were adequate facilities to meet future as well as present demands.
The cost of the complete scheme at Seacroft is stated to be approximately 167,000, that figure including the future provision of parking sheds equipped with immersion heating. The site covers 3.33 acres, the main building occupying 3,106 sq. yd., the parking sheds 1,936 sq. yd. and the vehicle wash-house 196 sq. yd. In the wash-house is a Dawson bus washer, worked by a team of three; it is capable of dealing with one bus every three minutes under ordinary winter conditions.
Of Portal frame construction, the principal building has an unobstructed floor. The main span is 100 ft. and the length 183 ft. The inspection hay has eight pit apertures, fully interconnected below surface level. Strip lighting is provided in all and they are served by mobile greasing and oil-filling plant. A double-deck gantry facilitates bodywork inspection.
ESSO'S 113m. FOR MORE FUEL A N expansion programme costing
E13m. is to he carried out at the Fawley refinery of the Esso Petroleum Co., Ltd.. partly to meet growing demands for oil fuel. Two new hydrofibers will reduce the sulphur content of oil fuel and improve its quality. A new jetty berth and extra storage tanks will he built. The refinery is saving Britain $150m. a year, but this figure will rise to S250m. when the new expansion programme is completed in 1958.
A 1.9m. project at Fawley was announced last April, TIME-AND-A-HALF
HAULIERS have un.til July 27 to make representations to the Road Haulage Wages Council against the proposal to institute time-and-a-half payment for overtime worked on Saturdays. The proposal is contained in R.H.(57).