Rail Apology : "False Statement" Allegation Disproved
20th July 1956
Page 39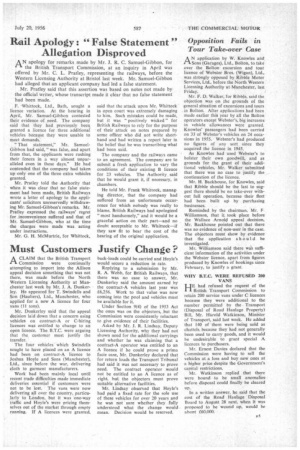 Page 39, 20th July 1956 —
Rail Apology : "False Statement" Allegation Disproved
Close
A N apology for remarks made by Mr. J. R. C. Samuel-Gibbon, for " the British Transport Commission, at an inquiry in April was offered by Mr. C. L. Pratley, representing the railways, before the Western Licensing Authority at Bristol last week. Mr. Samuel-Gibbon had alleged that an applicant company had led a false statement.
Mr. Pratley said that this assertion was based on notes not made by the official writer, whose transcript made it clear that no false statement had been made.
F. -Whittock, Ltd., Bath, sought a licence variation. At the hearing in April, Mr. Samuel-Gibbon contested their evidence of need. The company said that they had previously been granted a licence for three additional vehicles because they were unable to meet demands: "That statement," Mr. SamuelGibbon had said, " was false, and apart from that, the applicants were rushing their fences in a way almost unparalleled even in these days." He had contended that the company had taken up only one of the three extra vehicles granted.
Mr. Pratley told the Authority that when it was clear that no false statement had been made, British Railways wrote a letter of apology to the applicants' solicitors unreservedly withdrawing Mr_ Samuel-Gibbon's remarks. Mr. Pratley expressed the railways' regret for _inconvenience suffered and that of Mr. Samuel-Gibbon, who at the time the charges were made was acting under instructions.
Mr. G. H. McMurtrie, for Whittock,
said that the attack upon Mr. Whittock in open court was extremely damaging to him. Such mistakes could be made, but it was " positively wicked" for British Railways to rely for the purpose of their attack on notes prepared by some officer who did not write shorthand and had written a report later in the belief that he was transcribing what had been said.
The company and the railways came to an agreement. The company are to submit a fresh application to vary the conditions of their existing B licence for 23 vehicles. The Authority said that he would grant it, if necessary, in chambers.
He told Mr. Frank Whittock, managing director, that the company had suffered from an unfortunate occurrence for which nobody was really to blame. British Railways had apologized "most handsomely," and it would be a graceful action on their part—and no doubt acceptable to Mr. Whittock—if they saw fit to bear the cost of the hearing of the original application.