Opposition Fails in Tour Take-over Case
20th July 1956
Page 39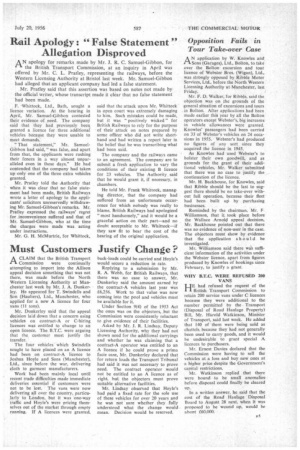 Page 39, 20th July 1956 —
Opposition Fails in Tour Take-over Case
Close
AN application by W. Knowles and Sons (Garages), Ltd., Bolton, to take over the Bolton excursion and tour licence of Webster Bros. (Wigan), Ltd., was strongly opposed by Ribble Motor Services, Ltd., before the North Western Licensing Authority at Manchester, last Friday.
Mr. F. D. Walker, for Ribble, said the objection was on the grounds of the general situation of excursions and tours .in Bolton-. After applications had been made earlier this year by all the Bolton operators except Webster's, big increases in vehicle allowances were granted. Knowles' passengers had been carried on 33 of Webster's vehicles on 24 occasions in 1955. Webster's had produced no figures of any sort since they acquired the licence in 1945.
As Knowles had used Webster's to bolster their own goodwill, and as grounds for the grant of their additional vehicles, Mr. Walker submitted that there was no case to justify the continuation of the licence.
Mr. H. Backhouse, for Knowles, said that Ribble should be the last to suggest there should be no take-over without full operation, because their fleet had been built up by purchasing businesses.
Reminded by the chairman, Mr. F Williamson, that it took place before the Wallace Arnold appeal decision, Mr. Backhouse pointed out that there was no evidence of non-user in the case. The objectors must show by evidence that the application sho old be investigated.
Mr. Williamson said there was sufficient information of the activities under the Webster licence, apart from figures produced by Knowles of bookings since February, to justify a grant.
WHY R.T.C. WERE REFUSED 200 VANS
HE had refused the request of the British Transport Commission to retain 200 service vans under C licences because they were additional to the number permitted by the Transport (Disposal of Road Haulage Property) Bill, Mr. Harold Watkinson, Minister of Transport, said last week. He added that 140 of them were being sold as chattels because they had not generally been used to carry goods, and it would he undesirable to grant special A licences to purchasers.
Mr. Ernest Davies declared that the Commission were having to sell the vehicles at a loss and buy new ones at a higher price despite the Government's capital restrictions.
Mr. Watkinson replied that there were bound to be small anomalies before disposal could finally he cleared up.
In a written answer, he said that the cost of the Road Haulage Disposal Board to August 28 next, when it was proposed to be wound up, would be abont £60,000.