Must Customers Justify Change ?
20th July 1956
Page 39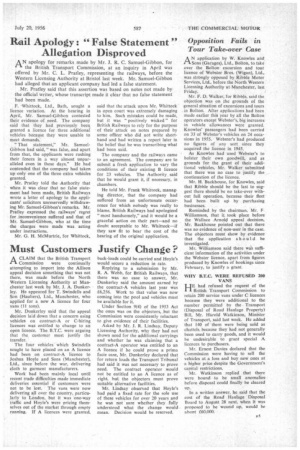 Page 39, 20th July 1956 —
Must Customers Justify Change ?
Close
A CLAIM that the British Transport 1-1 Commission were continually attempting to import into the Allison appeal decision something that was not there, was made before the North Western Licensing Authority at Manchester last week by Mr. J. A. DunkerIcy. He appeared for T. Swindells and Son (Hauliers), Ltd., Manchester, who applied for a new A licence for four vans (11 tons).
Mr. Dunkerley said that the appeal decision laid down that a concern using vehicles on contract-A or C-hiring licences was entitled to change to an open licence. The B.T.C. were arguing that the customer must justify the transfer, The four vehicles which Swindells sought to have placed on an A licence had been on contract-A licence to Joshua Hoyle and Sons (Manchester), Ltd., since before the war, delivering cloth to garment manufacturers.
Work had been mainly local until recent trade difficulties made immediate deliveries essential if customers were not to be lost. The vans were now delivering all over the country, particularly to London, but it was one-way traffic and Hoyle's were pricing themselves out of the market through empty running. If A licences were granted, back-loads could be carried and Hoyle's would secure a reduction in rate.
Replying to a submission by Mr. R. A. Webb, for British Railways, that there was no case to answer, Mr. Dunkerley said the amount earned by the contract-A vehicles last year was £6,256. Work to that value was now coming into the pool and vehicles must be available for it.
Under Section 9(4) of the 1953 Act the onus was on the objectors, but the Commission were consistently reluctant to give evidence of their facilities.
Asked by Mr. J. R. Lindsay, Deputy Licensing Authority, why they had not shown need for the additional carryings and whether he was claiming that a contract-A operator was entitled to an A licence if he could prove a prima facie case, Mr. Dunkerley declared that for return loads the Transport Tribunal had said it was not necessary to prove need. The contract operator would not be entitled to an A licence as of right, but the objectors must prove suitable alternative facilities.
Mr. Lindsay observed that Hoyle's had paid a fixed rate for the sole use of these vehicles for over 20 years and he was not sure whether they fully ufiderstood what the change would , mean. Decision would be reserved.