LOADING-BAN CLAUSE TO Six Foreign Makes BE ALTERED for the Show
20th July 1956
Page 36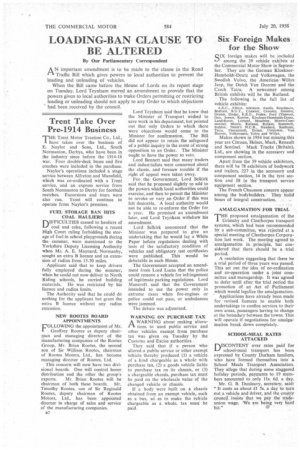 Page 36, 20th July 1956 —
LOADING-BAN CLAUSE TO Six Foreign Makes BE ALTERED for the Show
Close
By Our Parliamentary Correspondent
A N important amendment is to be made to the clause in the Road 1-1 Traffic Bill which gives powers to local authorities to prevent the loading and unloading of vehicles.
When the Bill came before the House of Lords on its report stage on Tuesday, Lord Teynhatri moved an amendment to provide that the powers given to local authorities to make Orders permitting or restricting loading or unloading should not apply to any Order to which objections had been received by the council.
Lord Teynham said that he knew that the Minister of Transport wished to save work in his department, but pointed out that only Orders to which there were objections would come to the Minister for confirmation. The Bill did not appear to retain the safeguard of a public inquiry in the event of strong opposition to an Order. The Minister ought to have the power to veto.
Lord Bennett said that many traders and industrialists were concerned about the clause, and foresaw trouble if the right of appeal were taken away.
For the Government, Lord Selkirk said that he proposed slightly to add to the powers which local authorities could exercise, and then to permit the Minister to revoke or vary an Order if this was felt desirable. A local authority would not be able to re-enforce the Order for a year. He promised an amendment later, and Lord Teynhana withdrew his amendment.
Loi-d Selkirk announced that the Minister was prepared to give an undertaking that he would lay a White Paper before regulations dealing with tests of the satisfactory condition of vehicles and obligatory test certificates were published. This would be debatable in each House.
The Government accepted an amendment from Lord Lucas that the police could remove a vehicle for infringement of legitimate parking regulations. Lord Mancroft said that the Government intended to use the power only in extreme cases when fire-engines or police could not pass, or ambulances were jammed.
The debate was adjourned.
WARNING ON PURCHASE TAX
AWARNING about making alterations to used public service and other vehicles exempt from purchase tax was given on Tuesday by the Customs and Excise authorities.
They said that if a person who altered a public service or other exempt vehicle thereby produced (I) a vehicle of a kind chargeable as a whole with purchase tax, (2) a goods vehicle liable to purchase tax on its chassis, or (3) a chargeable chassis, purchase tax must be paid on the wholesale value of the changed vehicle or chassis.
If a body were built on a chassis obtained from an exempt vehicle, such as a bus, so as to make the vehicle chargeable as a whole, tax must be paid.