One Hears
20th July 1956
Page 35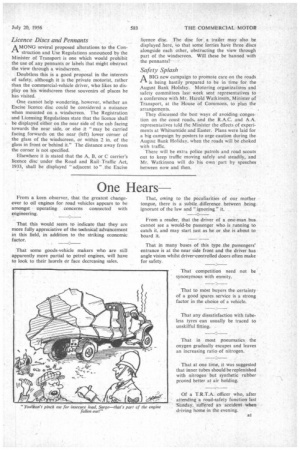 Page 35, 20th July 1956 —
One Hears
Close
From a keen observer, that the greatest changeover to oil engines for road vehicles appears to be amongst operating concerns connected with engineering.
That this would seem to indicate that they are more fully appreciative of the technical advancement in this field, in addition to the striking economic factor.
That some goods-vehicle makers who are still apparently more partial to petrol engines, will have to look to their laurels or face decreasing sales. That, owing to the peculiarities of our mother tongue, there is a subtle .difference between being ignorant of the law and " ignoring " it.
From a reader, that the driver of a one-man bus cannot see a would-be passenger who is running to catch it, and may start just as he or she is about to board it.
That in many buses of this type the passengers' entrance is at the near side front and the driver has angle vision whilst driver-controlled doors often make for safety.
That competition need not be synonymous with enmity.
That to most buyers the certainly of a good spares service is a strong factor in the choice of a vehicle.
That any dissatisfaction with tubeless tyres can usually be traced to unskilful fitting.
That in most pneumatics the oxygen gradually escapes and leaves an increasing ratio of nitrogen.
That at one time, it was suggested that inner tubes should be replenished with nitrogen but synthetic rubber proved better at air holding_
Of a T.R.T.A. officer who, after attending a road-safety function last SUnday, suffered an accident when driving home in the evening.