Common Danger
20th July 1956
Page 34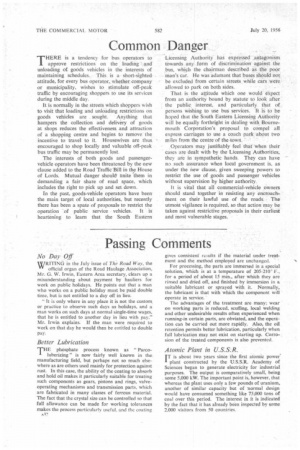 Page 34, 20th July 1956 —
Common Danger
Close
THERE is a tendency for bus operators to approve restrictions on the loading and unloading of goods vehicles in the interests of maintaining schedules. This is a short-sighted attitude, for every bus operator,, whether company or municipality, wishes to stimulate off-peak traffic by encouraging shoppers to use its services during the middle day.
It is normally in the streets which shoppers wish to visit that loading and unloading restrictions on goods vehicles are sought. Anything that hampers the collection and delivery of goods at shops reduces the effectiveness and attraction of a shopping centre and begins to remove the incentive to travel to it. Housewives are thus encouraged to shop locally and valuable off-peak bus traffic may be permanently lost.
The interests of both goods and passengervehicle operators have been threatened by the new clause added to the Road Traffic Bill in the House of Lords. Mutual danger should Unite them in demanding a fair share of road space, which includes the right to pick up and set down.
In the past, goods-vehicle operators have been the main target of local authorities, but recently there has been a spate of proposals to restrict the operation of public service vehicles. It is heartening to learn that the South Eastern Licensing Authority has expressed" .antagonim towards any form of discrimination against the bus, which the chairman described as the poor man's car. He was adamant that buses should not be excluded from certain streets while cars were allowed to park on both sides.
That is the attitude which one would expect from an authority bound by statute to look after the public, interest, and particularly that of persons wishing to use bus services. It IS to be hoped that the South Eastern Licensing Authority will be equally forthright in dealing with Bournemouth Corporation's proposal to compel all express carriages to use a coach park. about two miles from the centre of the town Operators may justifiably feel that when their cases are dealt with by the Licensing Authorities, they are in sympathetic hands. They can have no such assurance when local government is. as under the new clause, given sweeping powers to restrict the use of goods and passenger vehicles without supervision by higher authority.
It is vital that all commercial-vehicle owners should stand together in resisting any encroachment on their lawful use of the roads. The utmost vigilance is required, so that action may be taken against restrictive proposals in their earliest and most vulnerable stages.