14 Tons of Lime in Bulk
20th January 1956
Page 47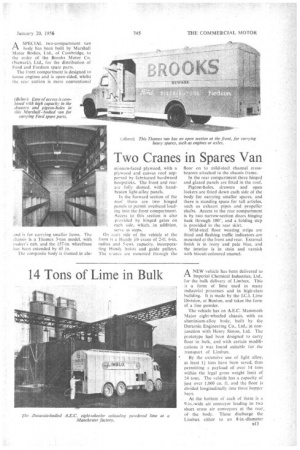 Page 48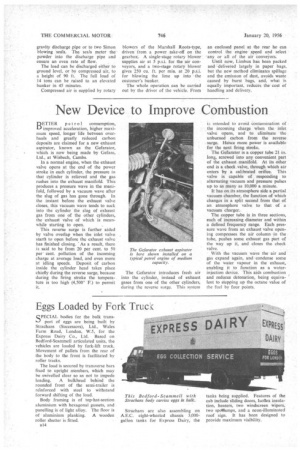 Page 47, 20th January 1956 —
14 Tons of Lime in Bulk
Close
ANEW vehicle has been delivered to Imperial Chemical Industries, Ltd.. for the bulk delivery of Limbux. This fs a form of lime used in many industrial processes and in high-class building. It is made by the I.C.I. Lime Division, at Buxton, and takes the form of a fihe powder.
The vehicle has an A.E.C. Mammoth Major eight-wheeled chassis, with an aluminium-alloy body, built by the Duramin Engineering Co., Ltd.: in conjunction with Henry Simon, Ltd. The prototype had been designed to carry flour in bulk, and with certain modifications it was found suitable for the transport of Limbux.
By the extensive use of light alloy, at least U, tons have been saved, thus permitting a payload of over 14 tons within the legal gross weight limit of 24 tons. The vehicfe has a capacity of just over 1,000 cu. ft, and the floor is divided longitudinally into three hopper bays.
At the bottom of each of these is a 9-in.-wide air conveyor leading to two short cross air conveyors at the rear, the body. These discharge the Limbux either to an 8-in,-diameter B13 gravity discharge pipe or to two Simon blowing seals. The seals meter the powder into the discharge pipe and ensure an even rate of flow.
The load can be discharged either to ground level, or by compressed air, to a height of 90 ft. The full load of 14 tons can be raised to an elevated bunker in 45 minutes.
Compressed air is supplied by rotary blowers of the Marshall Roots-type, driven from a power take-off on the gearbox. A single-stage rotary blower supplies air at 5 p.s.i. for the air conveyors, and a two-stage rotary blower gives 250 Cu, ft. per min. at 20 p.s.i. for blowing the lime up into the customer's bunker.
The whole operation can be carried out by the driver of the vehicle. From an enclosed panel at the rear he can control the engine speed and select any or all of the air conveyors.
Until now, Limbux has been packed and 'delivered largely in paper bags, but the new method eliminates spillage and the emission of dust, avoids waste caused by burst bags, arid, what is equally important, reduces the cost of handling and delivery.