RED AND WHITE
20th January 1950
Page 46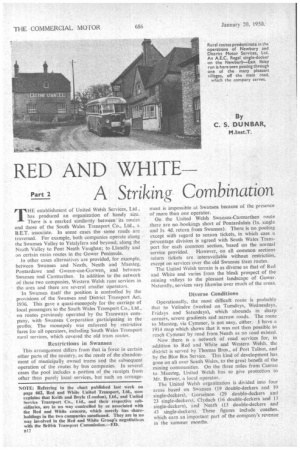 Page 47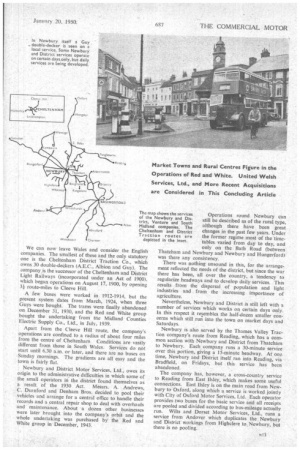 Page 48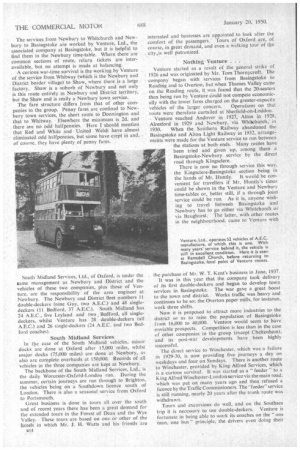 Page 49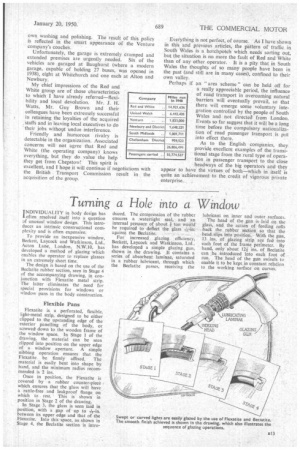 Page 46, 20th January 1950 —
RED AND WHITE
Close
Keywords :
United Kingdom
,
Counties Of England
,
Glamorgan
,
Swansea
,
Swansea Bay
,
Basingstoke
,
Thames Valley Traction
,
Oxford Bus Company
,
Maesteg
,
Newbury (town), Vermont
,
Red & White Services
,
Reading Transport
A Striking Combination By C. S. DUNBAR, M Inst.T.
THE establishment of United Welsh Services, Ltd., has produced an organization of handy size. There is a marked similarity betweenits routes and those of the South Wales Transport Co., Ltd., a B.E.T. associate. In some cases the same roads are traversed. For example, both companies operate along the Swansea Valley to Ystalyfera and beyond; along the Neath Valley to Pont Neath Vaughan; to Llanelly and on certain main routes in the Gower Peninsula.
In other cases alternatives are provided, for example, between Swansea and Neath, Neath and Maesteg. Pontardawe and Gwatin-cae-Gurwen, and between Swansea and Carmarthen. In addition to the network of these two companies, Western Welsh runs services in the. area and there are several smaller operators.
In Swansea itself the position is controlled by the provisions of the Swansea and District Transport Act. 1936. This gave a quasi-monopoly for the carriage of local passengers to the South Wales Transport Co., Ltd., on routes previously operated by the Tramways company, with Swansea Corporation participating in the profits. The monopoly was enforced by restrictive fares for all operators, including South Wales Transport rural services, which covered the old tram routes.
Restrictions in Swansea
This arrangement differs from that in force in certain other parts of the country, as the result of the abandonment of municipally owned trams and the subsequent operation of the routes by bus companies. In several cases the pool includes a portion of the receipts from other than purely local services, but such an arrange
went is impossible at Swansea because of the presence of more than one operator.
On the United Welsh Swansea-Carmarthen route there are no-bookings short of Pontardulais (Is. single and is. 4d. return from Swansea). There is no pooling except with regard to season tickets, in which case a percentage division is agreed with South Wales Transport for each common section, based on the normat service provided. However, on all common sections return tickets are interavailable without restriction, except on services over the old Swansea tram routes.
The United Welsh terrain is as diverse as that of Red and White and varies from the bleak prospect of the mining valleys to the pleasant landscape of Gower. Naturally, services vary likewise over much of the areas.
Diverse Conditions
Operationally, the most difficult route is probably that to Velindre (worked on Tuesdays, Wednesdays, Fridays and Saturdays), which abounds in sharp corners, severe gradients and narrow roads. The route to Maesteg, via Cymmer, is not easy, either. I have a 1914 map which shows that it was not then possible to reach Cynamer by road from Neath as no road existed.
Now there is a network of road services for, in addition to Red and White and Western Welsh, the district is served by Thomas Bros., of Port Talbot, and by the Blue Bus Service. This kind of development has gone on alt over South Wales, to the great benefit of the mining communities. On the three miles from Caeraii to Maesteg, United Welsh has to give protection to Mr. Brewer, a local operator.
The United Welsh organization is divided into four areas based on Swansea (19 double-deckers and 10 single-deckers), Gorseinon (29 double-deckers and 23 single-deckers), Clydach (16 double-deckers and 13 single-deckers), and Neath (13 double-deckers and 43 single-deckers). These figures include coaches, which earn an important part of the company's revenue in the summer months. We can now leave Wales and consider the English companies. The smallest of these and the only statutory one is the Cheltenham District Traction Co., which owns 30 double-deckers (A.E.C., Albion and Guy). The company is the successor of the Cheltenham and District Light Railways (incorporated under an Act of 1900), which began operations on August 17, 1900, by opening 31 route-miles to Cleeve Hill.
A few buses were worked in 1912-1914, but the present system dates from March, 1924, when three Guys were bought. The trams were finally abandoned on December 31, 1930, and the Red and White group bought the undertaking from the Midland Counties Electric Supply Co., Ltd., in July, 1939.
Apart from the Cleeve Hill route, the company's operations are confined to a radius of about four miles from the centre of Cheltenham Conditions are vastly different from those in South Wales. Services do not start until 6.30 a.m. or later, and there are no buses on • Sunday mornings. The gradients are all easy and the town is fairly flat.
Newbury and District Motor Services, Ltd., owes its origin to the administrative difficulties in which some of the small operators in the district found themselves as a result of the 1930 Act. Messrs. A. Andrews, C. Dutnford and Denham Bros. decided to pool their vehicles and arrange for a central office to handle their records and a central repair shop to deal with overhauls and maintenance. About a dozen other businesses were later brought into the company's orbit and the whole undertaking was purchased by the Red and White group in December, 1941. Operations round Newbury can still be described as of the rural type, although there have been great changes in the past few years. Under the former regime most of the time'tables varied from day to day, and only on the Bath Road (between Thatcham and Newbury and Newbury and Hungerford) was there any consistency.
There was nothing unsound in this, for the arrangement reflected the needs of the district, but since the war there has been, all over the country, a tendency to regularize headways and to develop daily services. This results from the dispersal of population and light industries and from the increasing importance of agriculture.
Nevertheless, Newbury and District is still left with a number of services which works on certain days only. In this respect it resembles the half-dozen smaller concerns which still run into the town on market days and Saturdays.
Newbury is also served by the Thames Valley Traction company's route from Reading, which has a common section with Newbury and District from Thatcham to Newbury. Each company runs a 30-minute service over this portion, giving a 15-minute headway. At one time, Newbury and District itself ran into Reading, via Bradfield, on Fridays, but this service has been abandoned.
The company has, however, a cross-country service to Reading from East llsley, which makes some useful connections. East llsley is on the main road from Newbury to Oxford, along which a service is .worked jointly with City of Oxford Motor Services, Ltd. Each operator provides two buses for the basic service and all receipts are pooled and divided according to bus-mileage actually run. Wilts and Dorset Motor Services, Ltd., runs a service from Andover which duplicates the Newbury and District workings from Highclere to Newbury, but there is no pooling. The map shows the services of the Newbury and District, Venture and South Midland companies. The Cheltenham and District Traction routes are
depicted in the inset.
The services from Newbury to Whitchurch and Newbury to Basingstoke are worked by Venture, Ltd., the associated company at Basingstoke, but it is helpful to find them in the Newbury time-table. Where there are common sections of route, return tickets are interavailable, but no attempt is made at balancing.
. A curious war-time survival is the working.by Venture of the serVice from Whitway (which is the Newbury and District border village) to Shaw, where there is a large factory. Shaw is a .suburb of Newbury' and not only is this route entirely in Newbury and District territory, but the Shaw end is really a Newbury town service.
The fare structure differs from that of other companies in the group. Penny fares are confined to Newbury town services, the short route to Donnington and that to .Whitway. Elsewhere the minimum is 2d. and there are no odd halfpennies. Here I should mention that Red and White and United Welsh have almost eliminated odd halfpennies, but sOme have crept in and. of course. they have plenty of penny fares.
South Midland Services, Ltd., of Oxford, is under the same management as Newbury and District and the vehicles of these two companies, plus those of Venture, are the responsibility of the area engineer at Newbury. The Newbury and District fleet numbers 11 double-deckers (nine Guy, two A.E.C.) and 48 singledeckers (11 Bedford, 37 AE.C.). South Midland has 24 A.E.C., live Leyland and two Bedford, all single
• deckers, whilst Venture has 28 double-deckers (all A.E.C.) and 26 single-deckers (24 A.E.C. and two Bedford coaches).
South Midland Services
In the case of the South Midland vehicles, minor docks are done at Oxford after 15,000 miles, whilst major docks (75,000 miles) are done at Newbury, as also are complete overhauls at 150,000. Records of all vehicles in the three companies are kept at Newbury.
The backbone of the South Midland Services, Ltd., is the daily Worcester-Oxford-London run. During the summer, certain journeys are run through to Brighton, the vehicles being on a Southdown licence south of London. There is also a seasonal service from Oxford to Portsmouth.
Great business is done in tours all over the south and of recent years there has been a great demand for the extended tours in the Forest of Dean and the Wye Valley. These tours' are based on one or other of the hotels in which Mr. J. H. Watts and his friends are
ril4
interested and hostesses are appointed to look after the comfort of the passengers.Tours of Oxford are, of course, in great demand, and even a walking tour of the city,is well patronized.
Nothing Venture . . .
Venture started as a result of the general strike of 1926 and was originated by Mr. Tom Thornycroft. The company began with services from Basingstoke to Reading and to Overton, but when Thames Valley came on the Reading route, it was found that the 20-seaters then being run by Venture could not compete economically with the loWer fares charged on the greater-capacity vehicles of the larger concern. Operations on that
route were therefore Curtailed at Shertield-on-Loddon. Venture reached Andover in 1927, Alton in 1928, Alresford in 1929 and Newbury, via Whitchurch, in 1930. When the. Southern Railway abandoned the Basingstoke and Alton Light Railway in 1932, arrangements were made for the Venture service to run between the stations at .both ends. Many routes have been tried and given up, among them a Basingstoke-Newbury serviceby the direct
road through Kingsclere.
There is now no through service this way, the Kingsciere-Basingstoke section being in the hands of Mr. Huntly. It would be convenient for travellers if Mr. Huntly's times could be shown in the Venture and Newbury time-tables or, better still, if a through joint service could be run. As it is, anyone wishing tci travel between Basingstoke and Newbury has to go either via Whitchurch or via Baughurst. The latter, with other routes in the neighbourhood, came to Venture with the purchase of Mr. W. T. Kent's business in June, 1937.
It was in this year that the company took delivery of its first double-deckers and began to develop town services in Basingstoke. The war gave a great boost to the town and district. Works traffic was heavy and. continues to be so; the Overton paper mills, for instance, work three shifts.
Now it is proposed to attract more industries to the district so as to raise the population of Basingstoke from 16,000 to 40,000. Venture would seem to have enviable prospects. Competition is less than in the case of other companies in the group (except Cheltenhan and its post-war developments have been highly successful.
The direct service to Winchester, which was a failure in 1929-30, is now providing five journeys a day on weekdays and four on Sundays. There is another route to Winchester, provided by King Alfred Services, which is a curious survival. It was started as a " feeder " to a King Alfred Winchester-London service via the main road, which was put on many years ago and then refused a licence by the Traffic Commissioners. The "feeder" service is still running. nearly 20 years after the trunk route was withdrawn.
Tours and excursions do well, and on the Sonthsea trip it is necessary to use double-deckers. Venture is fortunate in being able to work its coaches on the 'tone man, one bus" principle, the drivers even doing their Own washing and polishing. The result of this policy is reflected in the smart appearance of the Venture company's coaches.
Unfortunately, the garage is extremely cramped and extended premises are urgently needed. Six of the vehicles are garaged at Baughurst (where a modern garage, capable of holding 27 buses, was oroened in 1938), eight at Whitchurch and one each at Alton and Newbury.
My chief impressions of the Red and White group are of those characteristics to which I have already referred—flexibility and local devolution. Mr. J. H. Watts, Mr. Guy Brown and their colleagues have been extremely successful in retaining the loyalties of the acquired , staffs and in leaving local executives to do their jobs without undue interference.
Friendly and humorous rivalry is detectable in the organization. Associated concerns will not agree that Red and White (the operating company) knows everything, but they do value the help they get from Chepstow! This spirit is excellent, and I hope it will continue if negotiations with the British Transport Commission result in the acquisition of the group.
Company Red and White ..
United Welsh Venture .. ..
Newbury and District South Midlands .
Cheltenham District
Passengers carried ..
Everything is not perfect, of course. As I have shown in this and previous articles, the pattern of traffic in South Wales is a hotchpotch which needs sorting out, but the situation is no. more the fault of Red and White than of any other operator. It is a pity that in South Wales the thoughts of so many people have been in the past (and still are in many cases), confined to their own valley.
Perhaps if an "area scheme" can be held off for a really appreciable period, the influence of road transport in overcoming natural barriers will eventually prevail, so that there will emerge some voluntary integration controlled by the people of South Wales and not directed from London. Events so far suggest that it will be a long time before the compulsory nationalization of road passenger transport is put into effect there.
As to the English companies, they provide excellent examples of the transitional stage from the rural type of operation in passenger transport to the close headways of the big operators and they appear to have the virtues of both—which in itself is quite an achievement to the credit of vigorous private enterprise.
Miles run in 1948 1.1,921,636 6,442,405 1,833.000 1,648,221 1,001.711 959522 26.806,195 55,774,537