More Power and Speeds in Crossley Coach
20th January 1950
Page 41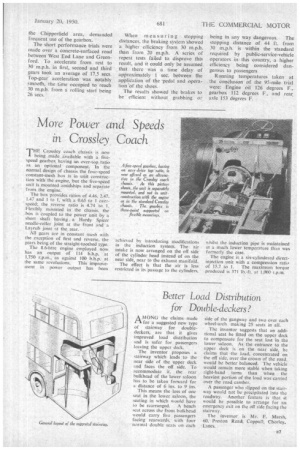 Page 41, 20th January 1950 —
More Power and Speeds in Crossley Coach
Close
THE Crossley coach chassis is now being made available with a fivespeed gearbox having an over-top ratio as an optional component. In the normal design of chassis the four-speed constant-mesh box is in unit construction with the engine, but the five-speed unit is mounted amidships and separate from the engine.
The box provides ratios of 4.46, 2.47, 1.47 and 1 to 1; with .a 0.65 to I over the reverse ratio is 4.14 to I. Flexibly mounted in the chassis, the box is coupled to the power unit by a short shaft having . a Hardy Spicer needle-roller joint at the front and a Layruh joint at the rear.
All gears are in constant mesh with the exception of first and reverse, the gears being of the straight-toothed type.
The 8.6-litre engine employed now has an output of 114 b.h.p. at 1.750 r.p.M., as against 100 b.h.p. at
the same revolutions. This improvement in power output has hcen
'achieved by introducing modifications in the induction system. The air intake is now arranged on the off side of the cylinder head instead of on the near side, near to the exhaust manifold.
The effect is that the air is less restricted in its passage to the cylinders. whikt the induction pipe is maintained at a much lower temperature than was formerly the case.
The engine is a six-cylindered directinjection unit with a compression ratio of 15.7 to 1. The maximum torque produced is 371 lb.-ft. at 1,000 r.p.m.